Performance Car of the Year 2008
Performance Car of the Year 2008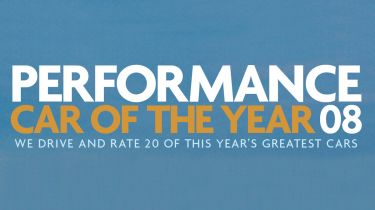 Start your engines and get those tyres smoking! Auto Express has done the testing and is ready to name its Performance Car of the Year 2008.
We've lined up the latest thrill seekers from a variety of manufacturers, with prices ranging from supermini to supercar budgets. This year's test is bigger and better than ever, putting you in the driving seat of 2008's most exciting new metal.
Last year's winner, the Porsche Cayman S, is defending its title, but every other car here has been launched in the last 12 months – so there's no shortage of red hot models to choose from.
Most of our PCotY mileage was at the great Anglesey Circuit, north Wales. A hot lap was recorded in each car by our resident racing driver Owen Mildenhall. As you check out the top 20, his time is shown along with a rating for track driving, road driving and desirability.
But that's not the end of the fun. You can get closer to the action by clicking any of the cars from the list above, where there are on-board hot lap videos with Owen at the wheel, as well as trackside footage of every car driven to the limit.
We want to hear which one of our top 20 performance cars of 2008 impressed you the most, click here to vote for your favourite.