Best dealers: 10-1
The dealers 29,000 Auto Express readers rated best for service, value and know-how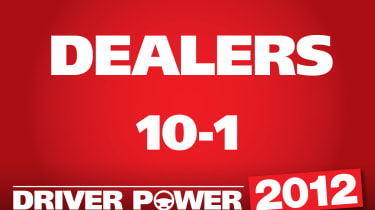 10. Mercedes 
Overall rating: 85.70%Biggest gripe: 29.3% (Didn't identify the fault)
Our top 10 starts with Mercedes repeating its success of 2011, consolidating last year's two-place rise up the rankings. Customers were clearly impressed by dealers' premises, putting them third in the cleanliness and atmosphere ranks. Further top 10 finishes for standard of work and technical know-how underline the quality of Mercedes' network. Only costs (a traditional Mercedes weakness) stopped it from making further progress up the chart.
9. Vauxhall 
Overall rating: 85.74%Biggest gripe: 25.9% (Didn't identify the fault)
What a result for Vauxhall. After years spent at the wrong end of our chart, it seems that its dealers have begun to pay attention. In 2011, it finished mid-table after jumping 15 places up from its last-place finish in 2010. This year's performance shows that wasn't just a flash in the pan. Its garages scored strongly across the board, but value for money is what impressed customers the most – only Skoda (first) and Nissan (second) rated higher in that category.
8. Subaru 
Overall rating: 86.58%Biggest gripe: 27.8% (Didn't identify the fault)
Subaru's dealers don't have much to shout about when it comes to sales, but that clearly hasn't stopped them from looking after their customers. While the new XV has struggled to make an impact in the crossover class, dealers have rediscovered the form that regularly saw them fighting for top honours in our annual countdown. Last year's five-place drop didn't bode well, but a four-place rise this time has drawn a line under that decline.
7. Jaguar 
Overall rating: 86.76%Biggest gripe: 30.6% (Didn't identify the fault)
Jaguar has shown the likes of Mercedes, BMW and Audi how to do it again, with an excellent seventh position – only Lexus does it better. The only area where it finished outside the top 10 was value for money, so there's still work to do. But value is relative. High prices alone don't spell disaster; what matters is justifying them to customers. So Jaguar needs to cut its costs, or make people feel better about paying them.
6. Honda 
Overall rating: 87.17%Biggest gripe: 28.3% (Didn't identify the fault)
It's a mark of Honda's sustained brilliance in the Driver Power dealer survey that it'll view sixth place as a disappointment. The brand finished third last year, so it's slipped three places, despite achieving top 10 scores in all our categories. The standard of workmanship rating has slipped the most, from third out of 30 last year to a still-excellent eighth here. The question is, does this mark the end of Honda's superb record to date, or is it a temporary blip?
5. Porsche 
Overall rating: 87.27%Biggest gripe: 42.3% (Didn't identify the fault)
Consistency is key to success in our dealer chart, and Porsche exemplifies this. It's come fifth for the second year running, after ranking second in no fewer than four categories. As usual, customers had one serious complaint: the value for money provided by its dealers. Only Audi scored worse than Porsche here. If it could cut costs or better justify prices, Porsche would be in the hunt for the overall Driver Power dealer crown in 2013.
4. Nissan 
Overall rating: 87.34%Biggest gripe: 27.8% (Didn't identify the fault)
Only one word can describe Nissan's rise up our dealer rankings: meteoric. Two years ago, it placed a lowly 25th overall, yet in 2012, it's only just missed out on a podium place. How has this been achieved? The hard work was done last year, when it shot up 19 places, but it hasn't rested on its laurels. Another two-place rise this year proves this wasn't a freak result and second for value shows Nissan customers are among the happiest with their final bills.
3. Skoda 
Overall rating: 88.03%Biggest gripe: 30.8% (Didn't identify the fault)
After two years in second spot, Skoda has slipped back a place in the Driver Power dealer standings. But this is still an amazing showing – especially as the brand's cars continue to win awards from owners, as well as our road testers. Last year, we wondered whether Skoda would be able to kick on and challenge for the coveted number one position, and although the company is still top of the pecking order for value (and has improved in two of our seven judging categories), that hasn't been enough to prevent it from being overtaken. It has fallen back everywhere else, but we'd still recommend the Skoda experience to anyone.
2. Toyota 
Overall rating: 88.42%Biggest gripe: 29.0% (Didn't identify the fault)
Motorists don't expect cars to run perfectly all the time, but when things go wrong, they want to be cared for – and Toyota's second place finish shows how far good customer service can get you. If anything, the recall debacle of 2010/2011 has had a positive impact on its rating; the company seems to have restored its reputation with its proactive response and efficient network. Toyota is up to the silver medal position in our dealer chart after finishing fourth in 2010 and 2011, thanks to top five ratings in all seven of our judging categories – that's a feat none of itscompetitors could match, even our overall winner, Lexus.
1. Lexus 
Overall rating: 90.0%Biggest gripe: 35.3% (Didn't identify the fault)
Dominant – that's the only way to describe Lexus' performance in our Driver Power dealer chart. The company has won the title ever since our very first satisfaction survey way back in 2002, and you only have to look at the margin of victory here to see that the competition still has a lot of catching up to do. Individual companies are usually only separated by a few percentage points as you glance down our chart, but Lexus sits more than 1.1 per cent clear of the second-ranked manufacturer, after topping all but one of our judging categories. Its value for money ratinghas dropped from fourth out of 30 last year to 10th this time around, but that just makes Lexus' victory all the more impressive...