Best dealers: 30-21
The bottom of our Driver Power top 30 dealers must try harder to keep customers satisfied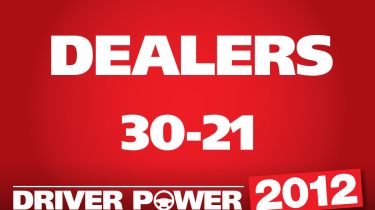 30. Fiat
Overall rating: 79.29%Biggest gripe: 31.6% (Didn't identify the fault)
Rock-bottom – that's where the Fiat dealer network finds itself this year. Improvements are clearly needed across the board, as it finished last in five of our seven categories. Placing 22nd out of 30 in the value-for-money charts shows that customers don't necessarily have a problem with the size of the bill, but the rest of the experience needs work. The brand has actually improved its performance this year – the problem is rivals have made more progress.
29. Alfa Romeo
Overall rating: 80.83%Biggest gripe: 31.2% (Unanswered phone calls)
Alfa Romeo's Driver Power dream has turned into a nightmare. Last year, we praised the brand after its rise from 21st place in 2010 to 16th. But all this hard work has been undone: Alfa is the biggest faller this year. It has slipped down the pecking order in every category compared to last year: customers think the standard of work, technical knowledge and costs all need drastic improvement. Alfa has turned things around before, and it'll need to do so again after this.
28. SEAT
Overall rating: 81.09%Biggest gripe: 24% (Didn't identify the fault)
Only a solid value-for-money score prevented SEAT from sliding further down the dealer charts this year. Even so, this result will make dismal reading for the company, as it follows a gradual rise up the Driver Power standings in recent years. There's room for improvement almost everywhere, but the priority has to be staff's technical know-how – SEAT finished last here. They'll also need to keep customers better informed about the progress and cost of work.
27. Mazda
Overall rating: 81.35%Biggest gripe: 24% (Didn't identify the fault)
Japanese brands tend to do well in Driver Power, but Mazda is bucking that trend. It has slipped down five places this year. How can it stop this decline? Improving the attitude of its staff would be an obvious place to start as customers rated Mazda 29th out of 30 here. A focus on technical knowledge – where the brand rated 28th – would also help it reverse the tide and begin to rise up our rankings next year. This is a sobering result for the company.
26. Ford
Overall rating: 81.44%Biggest gripe: 25.9% (Didn't identify the fault)
Slowly but surely, Ford is moving in the right direction, rising two places this year. Predictably, customers rate the network on its value for money, and Ford has improved in four of our seven categories in 2012, which suggests its dealer network is on the up. There's still a lot of work to be done, but the company should be focusing its efforts on the cleanliness and atmosphere of its garages and helpfulness and attitude of staff over the next 12 months.
25. Volkswagen
Overall rating: 82.21%Biggest gripe: 26.7% (Didn't identify the fault)
Our Driver Power standings suggest Volkswagen is a desirable brand in spite of its dealers, rather than because of them. Its lowly 25th place finish will be a concern, with the brand's mid-table ranking for value for money undermined by weaknesses in other areas – notably the attitude of its staff. The popularity of its cars could be part of the problem, as staff could be too busy, but whatever the reason VW needs to improve before it's overtaken by its rivals.
24. Citroen
Overall rating: 82.23%Biggest gripe: 29.2% (Didn't identify the fault)
Citroen has turned the corner. After dropping seven places in the last two years, its network has jumped three places back up the table this time. The brand has always been popular with customers for its value for money, but staff at its franchises have also improved how they keep you updated about the cost of the work and how long it's taking. This has been enough to reverse its two-year slump, and Citroen is now snapping at arch-rival Renault's heels.
23. Renault
Overall rating: 82.38%Biggest gripe: 31.2% (Unanswered phone calls)
Look away now if you're about to book your Renault in for a service. The network has had a tough year as the model range has been culled, and it's fallen nine places in our dealer chart – only Alfa Romeo has dropped further. What's up? Well, everything, with Renault tumbling in all our categories. Only a strong mid-table position in our value-for-money standings has prevented the company's dealers from plummeting even further down our league table. Must do better.
22. Smart
Overall rating: 82.65%Biggest gripe: 41.4% (Didn't identify the fault)
Smart is struggling in our dealer chart, even though it piggybacks one of the top performers, in the shape of parent company Mercedes. So what's going on? Owners have no problems with the spick and span showrooms (they ranked sixth out of 30), but the city car brand has failed to impress anywhere else. Smart even leaves customers feeling short-changed on value – an area in which you'd expect it to excel. So there's plenty of work to do here.
21. Mitsubishi
Overall rating: 82.99%Biggest gripe: 28.3% (Never properly explains the problem)
These are dark days for Mitsubishi dealers. Demand for the brand's Lancer Evo flagship has fallen in the last couple of years, and this has been accompanied by a nosedive in the Driver Power dealer standings. Mitsubishi was ranked sixth overall in 2010, but now it's in the bottom third of the chart. Addressing the cleanliness and atmosphere of its premises – ranked a lowly 27th – would be a good start. Ninth place for value gives cause for optimism.