Cheapest cars to insure: Smart ForTwo
Smart ForTwo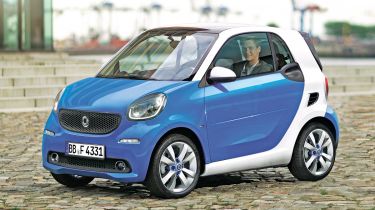 The Smart ForTwo is the latest version of a car that has been hugely influential in shaping the modern city car. The 'Smart car' ripped up the rulebook when it first emerged with its super compact dimensions and two-seat layout and it's still going strong. Entry-level versions of the 0.8 and 1.0-litre models qualify for group 2 insurance but the absence of rear passenger seats will still put some people off.
The Smart ForTwo is one of the most distinctive cars on the road thanks to its dinky dimensions and unique shape. It's also one of the smallest cars on the road, measuring just 2.5-metres long – which makes it both incredibly impractical and very useful in the right environment.
It is hopeless at carrying much more than one passenger and a small amount of shopping, and it's really not designed to do much motorway or A-road driving. But its compact body make it a whizz about town. Few other four-wheeled machines can squeeze through tightly-packed city streets with the ease of the Smart ForTwo, and parking it is absurdly easy.
It's as wide as it is long, so it can be parked at right angles to the kerb or side-on in even the tightest of parking bays. It's also extremely cheap to run – capable of CO2 emissions well under the 100g/km mark and economy in the 80mpg region. The gearbox is disappointingly jerky, but an all-electric Electric Drive model is available, which offers a much smoother driving experience albeit with a limited range.