BMW i8 price revealed
The petrol-electric BMW i8 will cost from £99,895 when sales begin in July next year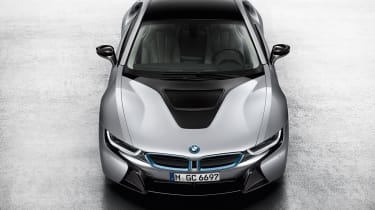 The high-performance, petrol-electric BMW i8 supercar will cost from £99,895 when sales begin in July next year.
However, pre-orders are currently being taken and BMW claims to have received around 100 deposits so far. The German manufacturer also announced around 200 orders for the BMW i3 have been taken, with roughly half of those being for the range-extender version. Sales for the i3 begin on 16 November.
The i8 is powered by a combination of a petrol engine and an electric motor. A 228bhp 1.5-litre turbo petrol engine drives the rear wheels, while the front axle is powered by a 129bhp mid-mounted electric motor.
That gives a combined power output of 357bhp, capable of propelling the i8 from 0-62mph in 4.4 seconds and on to a limited top speed of 155mph.
Those performance figures alone are impressive, but the economy figures are too. The i8 is able to travel up to 22 miles on electric power alone at up to speeds of 75mph and when the electric motor and petrol engine work together, they're able to give an overall range of 310 miles. Fuel economy is a claimed 113mpg, with CO2 emissions of only 59g/km.