Last Bugatti Veyron sold after 10 years in production
Last example of 450-strong Veyron production sells after a decade, with successor due in 2016
It's the end of an era for what many consider to be the most accomplished car ever made: Bugatti has announced the final example of the first-generation supercar has been sold, after appearing at next month's Geneva Motor Show.
The Veyron's production run of 450 cars included the original 252mph coupe, the record-breaking 268mph Super Sport, plus the Grand Sport and Grand Sport Vitesse convertibles. The last car, a 'La Finale' special edition, has been sold to a Middle Eastern customer but will appear at Geneva first alongside the very first Veyron built.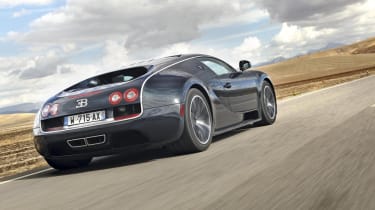 It marks a decade of production for one of the world's fastest-ever cars, which began in 2005 with 987bhp from its quad-turbo 8.0-litre W16 engine. That eventually jumped up to 1184bhp in 2010 with the introduction of the near-£2million Super Sport, with 1,500Nm of torque.
The Super Sport held the record for the fastest ever production car at 267.856mph for four years, until the Hennessey Venom GT came along in 2014 and pipped it by a tiny amount (though due to a technicality the Veyron still tops the official chart). The firm claims that the average price of a Veyron sold today, including optional extras, is £1.7 million.
Bugatti Veyron Super Sport performance figures:
• Top Speed: 268mph
• 0-62mph: 2.5 seconds
• 0-124mph: 6.7 seconds
• MPG/CO2: 12mpg/539g/km
2016: A successor for the mighty Bugatti Veyron
It's far from the final chapter for Bugatti and its ultimate supercar. Despite increasing pressure of emissions regulations and the advancement of autonomous, speed-restricted vehicles, the firm is set to debut the second-generation Veyron sometime next year, with even more power than before.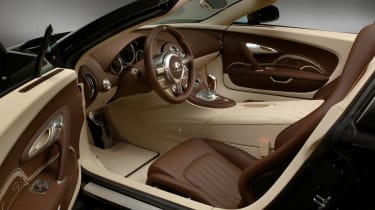 We've seen test mules of the next Veyron testing at the Nurburgring, and Bugatti's previous CEO Wolfgang Schreiber has stated that it will be significantly more powerful than before. We suspect the firm will use a highly modified version of the current W16 engine, pushing power up to somewhere near 1,500bhp thanks to the addition of advanced hybrid technology.
The firm also plans a significant reduction in the car's weight, a criticism of the last Veyron. We expect the firm will try to make the next-generation car a profitable venture, since the last Veyron costs significantly more to make than Bugatti could sell them for.