When will the Audi Q4 and Q8 SUVs be launched? (sponsored)
The Audi Q range of SUVs is set to grow with the Q4 and Q8. This is when they'll hit showrooms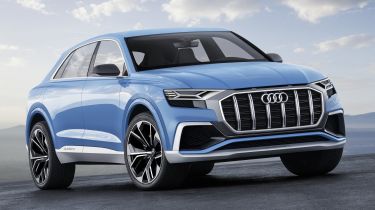 Looking at the sheer breadth of the Audi Q range, it would be easy to assume that it has an SUV to suit all tastes and personalities. But Audi never stops innovating, and has plans to expand the line-up still further to ensure it stays at the cutting edge of style and technology.
What could be next? Rupert Stadler, Chairman of the Board of Management of Audi, gave us an indication of what is to come, saying: "We will expand our successful Q family by 2019 with two new concepts – the Audi Q8 and the Audi Q4."
The Q4 won't be seen until 2019, but Audi has given a strong hint to the style of the car with the TT Offroad concept, revealed at the Beijing Motor Show. As the show car's name suggests, it is a blend of Audi's iconic TT and a Q model, creating a compact utility vehicle (CUV).
Featuring a coupe-style, low-roof silhouette, the Audi Q4 will be positioned between the Audi Q3 and Q5 and will appeal to those who want a more sporting look without having to sacrifice the all-weather capability and practicality of an SUV.
Little is known about the powertrain or technology planned for the Q4, but the company has hinted that battery power – either as a hybrid or full EV – will feature as one of the options. Production of the Audi Q4 will start on an all-new line at Audi Hungaria.
The coupe/SUV theme will continue with the Q8, which promises to open up a new segment for Audi's top-end models. As the name suggests it will sit above the Q7 in the range and create a premium SUV which will combine space, emotive design and the very latest technologies.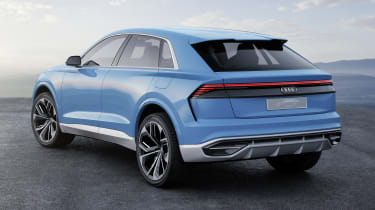 The Q8 has also been previewed as a concept car – this time it was revealed at the North American International Auto Show (NAIAS) in 2017 and was instantly hailed as the car of the event.
At a fraction over five metres long, the concept is the same size as a luxury saloon but offers far more space for passengers and luggage thanks to the upright stance.
Inside, a 'control concept' uses large touchscreens, an expanded version of the Audi virtual cockpit instrument panel and a head-up display. The latter incorporates intelligent augmented reality technology – a first in the motor industry.
The Q8 concept also hints at the powertrains which will be offered; it's powered by a 3.0-litre TFSI petrol engine paired with an electric motor, supplied by a 17.9kWh lithium-ion battery. Together they produce 440PS and 700Nm of torque, and yet the car can travel 37 miles on pure electric power.
Audi has said the first Q8 will be on sale some time in 2018.