Kobe steel scandal: General Motors joins growing list of makers investigating sub-standard materials
One of Japan's key metal producers caught falsifying strength and durability figures, affecting several carmakers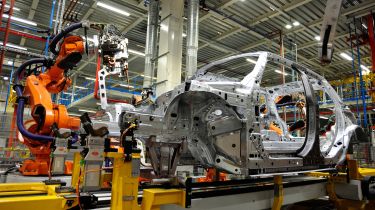 A growing number of car makers including Toyota and General Motors are investigating whether aluminium with falsified and strength and durability data has been used in their cars, after supplier Kobe Steel admitted to tampering with its product standards.
Kobe Steel Ltd, Japan's third-largest metal producer, said its staff had falsified the strength and durability of metal products delivered to more than 200 companies that include automotive manufacturers, aerospace companies and even the space industry. Its chief executive, Hiroya Kawasaki, has apologised for the scandal and promised it would conduct urgent safety inspections which it would report to the Japanese Government within two-weeks.
Kawasaki said: "The credibility of Kobe Steel has plunged to zero. We will make efforts to regain trust as soon as possible."
The practice is said to go back for nearly a decade. The company works with several major car manufacturers including Toyota, Honda, Nissan, Mazda, Mitsubishi, Subaru, Ford and General Motors.
Kobe Steel said data had been falsified to make the metals look as if they met quality standards. The false data has been linked back to four aluminium factories in Japan, the executive vice president, Naoto Umehara confirmed. The company is now investigating the practice, but says so far there have been no safety concerns.
Toyota confirmed that it has used aluminium with falsified strength and durability ratings in its doors and other outer areas. A spokesman said: "We are rapidly working to identify which vehicle models might be subject to this situation and what components were used.
"We recognize that this breach of compliance principles on the part of a supplier is a grave issue."
General Motors said: "General Motors is aware of the reports of material deviation in Kobe Steel copper and aluminium products. We are investigating any potential impact and do not have any additional comments at this time."
Honda also confirmed it used materials with false ratings in its doors and hoods, while Mazda and Mitsubishi are currently investigating whether their vehicles are affected.
Will Kobe Steel become the next 'Takata airbag' scandal to hit Japan? Tell us in the comments below…