Chinese Wey SUV will hit Europe in 2020s
Great Wall-owned Wey is eyeing European sales, with its first SUV due in the next five years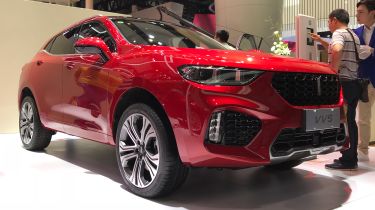 Chinese SUV giant Great Wall is preparing to launch its premium Wey-badged sub-brand in Europe in the early 2020s, according to CEO Jens Steingraber.
Speaking to Auto Express at the 2017 Guangzhou Motor Show, the brand's chief executive confirmed the brand has ambitions to move west early in the next decade. However, it'll be a while before the Wey marque lands in the UK, as the firm will initially focus on left-hand drive markets.
Great Wall's luxury brand sounded out a potential European entry earlier this year at the 2017 Frankfurt Motor Show, attending the German exposition with the XEV plug-in hybrid SUV concept as its headline act.
"The Frankfurt Motor Show was a surprising success for us", explained Steingraber. "If you want to be in the premium segment you have to be a global player".
The timing of the Wey's entry into the European market is being dictated by the firm's performance in China. "When we are able to meet [Chinese] customer demand, then the second step will be to go abroad to Europe and the US".
Steingraber predicts that Haval – another Great Wall brand responsible for almost 800,000 sales in 2016 – will also venture over to Europe in the future, too.
The CEO says Wey will attempt to lure European customers by positioning itself as a safety-focused brand. By the time the firm ventures outside the bounds of the Chinese market it's likely to have an all-new product portfolio, and two new chassis' are currently under development. One of these will support plug-in hybrid technology.
Would you be tempted by a Chinese brand for your next car? Give us your thoughts in the comments section…