Government urged to update Highway Code with smart motorway rules
AA writes to Road Safety Minister calling for fresh guidance on smart motorways with no hard shoulder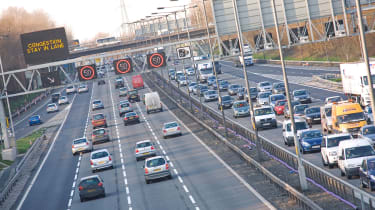 The Highway Code should be updated with guidance for smart motorways, the AA has said.
The breakdown organisation has written to Road Safety Minister Jesse Norman, explaining that while the Highway Code generally considers motorways as having three lanes of traffic and a continuous hard shoulder, this doesn't adequately reflect smart motorways, which often have no hard shoulder at all.
To address these shortcomings, the AA is calling for two new Highway Code rules. The first rule should instruct drivers to create an "emergency corridor", providing access for emergency services where there is no continuous hard shoulder. The second should instruct motorists to "slow down and move over" when passing broken-down vehicles in active lanes.
Smart motorways first appeared in 2006, and are designed to tackle growing traffic levels and congestion. There are currently three types.
• Controlled motorways, where traffic levels are monitored and speed limits adjusted to optimise traffic flow.
• Dynamic motorways, where the hard shoulder is used as a running lane during peak times.
• All-lane-running motorways, where refuge areas take the place of the hard should entirely.
Rule 275 of the Highway Code – which addresses what to do if you break down on a motorway – refers exclusively to traditional motorways with full-time hard shoulders.
Edmund King, AA president, said: "Eight out of 10 drivers (79%) say that motorways are more dangerous now compared to four years ago simply because of the removal of the hard shoulder."
King explained the AA considers the proposed changes to the Highway Code a "necessary step to try help save lives and improve safety and driver confidence when people use motorways."
The AA says it contacted the Road Safety Minister on 1 November, and at time of writing has yet to receive a reply from his office.
Do you think the Highway Code needs updating? Let us know your thoughts below...