Strict 70mph motorway speed limit enforcement would reduce emissions
Expert dubs speed the "elephant in the room" in emissions discussions, with research showing 70mph limits improve air quality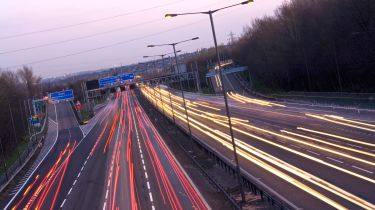 A leading transport expert has claimed strictly enforcing the 70mph motorway speed limit would generate "meaningful" improvements in air quality and "give the greatest benefit for air quality today."
Richard Cuerden, director of TRL Academy, called enforcement of the 70mph motorway limit "the elephant in the room" with regard to discussions surrounding emissions regulations.
• Driving 1mph over limit should incur penalty - police chief
He explained: "If we wanted to improve air quality, to reduce emissions, we'd embrace the speed limits we have on our motorways right now. We'd be brave enough to say '70mph means 70mph' and we'd see a massive step change. It's the one thing we could do overnight."
Cuerden added that "European research says there's between a 12-20 per cent reduction in fuel" use when travelling at 70mph compared to 80mph, and stated that emissions would also come down with reduced speed.
Previous research published by the Government when 80mph motorway limits were under consideration some years ago found carbon dioxide (CO2) emissions increased by 3-6 per cent in cars travelling at 80mph instead of 70mph. Nitrogen oxide (NOx) emissions also rose by 2-4 per cent.
But Dr John Norris, principal consultant for Ricardo Energy and Environment, believes the clean-running nature of modern Euro 6 diesels meant reduced NOx emissions wouldn't be the most significant effect of a strictly-observed 70mph speed limit.
"If the vehicle is running at a relatively constant high load, the dosing required to counteract that can be quite precisely controlled," Dr Norris said. "And for those vehicles, such a change in speed would have very little change in NOx emissions."
Cuerden acknowledged this to be true, but highlighted other emissions would still be reduced by enforced 70mph limits because of "the fuel composition today, where we don't have very many of those vehicles on the road."
Reducing emissions is likely to be at the forefront of transport ministers' minds at present, following a recent defeat in the High Court over the inadequacy of official air quality improvement plans.
Did you know that smart motorway cameras are still active even when no variable speed limit is in place? Read all about it here…