Variable motorway speed limits under review
Highways England announces investigation after tenfold increase in drivers being ticketed in areas with reduced limits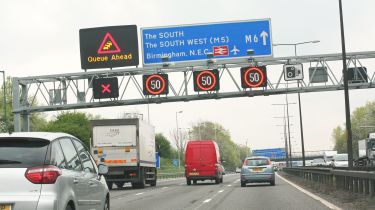 Variable motorway speed limits are to be comprehensively reviewed, after it was revealed ten times more drivers were issued with a speeding ticket in 2017 in areas with reduced limits.
Police data, released following a series of Freedom of Information requests, revealed 72,348 drivers were issued with speeding tickets last year on motorways with variable speed limits, up from just 7,064 in 2013. 45,919 drivers were caught out in 2016.
• 60mph limit proposed to cut M1 pollution
In 2017, 67 per cent of tickets were issued to motorists travelling at 69mph or less, indicating the majority of penalties were issued to drivers travelling on sections of motorway with reduced limits.
Highways England, the Government-owned organisation tasked with running the country's motorway network, admitted it used predictions based on "historical road usage" to set reduced speed limits. This means drivers are sometimes forced to travel on motorways at 40, 50 or 60mph for congestion that isn't there.
Jim O'Sullivan, Highways England's chief executive, admitted this lead to "dissatisfaction" among drivers. O'Sullivan told the Times, which carried out the investigation: "Nobody has a perfect product and there is some room for improvement on how those limits are set.
"We have to set the speed limit before the congestion appears… If you don't set the limit before there is no point having the speed limits."
Back in February this year, Highways England made changes that cut the amount of time variable limits were in place by around 200 hours a week across the UK's 250-mile network of smart motorways. O'Sullivan said training for speed limit operators had been updated.
Highways England said it has started a "comprehensive review of how variable speed limits are set, including the amount of time they are visible to drivers". The organisation added it had "improved the way we set message signs and signals on smart motorways".
Edmund King, president of the AA said the investigation "begs the question of how many thousands of motorists have been caught out when they shouldn't have been; when they were fined on roads with limits that were artificially set too low.
King said the AA had previously raised the issue of inappropriate variable speed limits with Highways England, adding: "We have too many members saying they're driving down an absolutely open road with 50 or 60mph speed limits on the overhead gantries."
Smart motorway speed cameras active when no variable limit in place
Previous research found that drivers who exceed the 70mph speed limit on smart motorways when no variable limit is in place can still be ticketed by speed cameras.
While some motorists believe smart motorway speed cameras are only active when a reduced speed limit is in place, police in Derbyshire have confirmed cameras on the M1 can catch drivers breaking the 70mph limit as well as those breaking lower, variable limits.
A Freedom of Information request, submitted to police by the Derby Telegraph, revealed speed cameras between Tibshelf services and junction 29A at Duckmanton on the M1 are permanently switched on, adjusting to variable limits, and even catching drivers when no variable speed limit is in place.
The four cameras on that stretch of road caught 8,382 speeding drivers in 2017, making them the most profitable cameras in the county in 2017.
And speeding isn't the only way the Government is set to make money from smart motorways: earlier this year, we reported the Home Office is trialling the use of automatic number plate recognition (ANPR) cameras to catch, then penalise, motorists driving in closed smart motorway lanes.
Smart motorways – where lanes can be opened or closed depending on traffic conditions, and variable speed limits can be enforced – have been around since 2006. Safety concerns recently prompted Highways England – the Government-owned company behind the motorway network - to announce it would increase the frequency of refuge areas for vehicles that break down on smart motorways.
Need advice on appealing a speeding ticket? Read our guide to speeding fines...