Most tyre-related motorway incidents avoidable, says study
Analysis of over 1,000 pieces of tyre debris finds almost three quarters of tyre-related accidents and breakdowns are preventable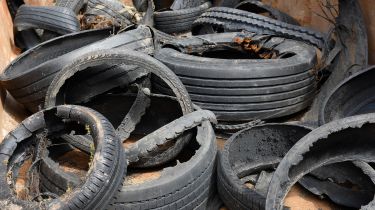 The majority of motorway collisions and breakdowns caused by tyre failure could be prevented by drivers monitoring their tyres more closely, new research has discovered.
An 18-month-long study, analysing 1,035 pieces of tyre debris from five motorways, discovered almost three quarters of failed tyres featured defects that could have been spotted with more frequent tyre inspections.
Researchers from Highways England and tyre company Bridgestone looked at tyre debris from cars, motorbikes, vans and trucks found on the M1, M6, M40, M5 and M42 motorways.
They discovered 56 per cent of tyres failed due to debris penetration, 18 per cent failed due to being inflated incorrectly, while 8 per cent failed due to poor vehicle maintenance, including incorrect alignment and improper repairs. A further 1 per cent failed due to manufacturing defects, while the same proportion failed due to overheating. 16 per cent of failures could not be classified.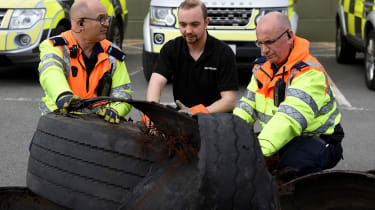 While some failures caused by debris penetration may have occurred on the motorway, the researchers found tyres exhibiting clear evidence of historical damage. Pronounced imprints in tyre rubber caused by bolts or nails, for example, indicated longstanding tyre damage.
The report's authors also noted that it "would be reasonable to assume many of the tyres which had suffered from penetrations had been operating penetrated for some time", because the "penetrating object can often partially plug the hole", leading to gradual deflation that could be spotted with regular tyre checks.
Official figures from Highways England show 32 people were killed or seriously injured on motorways in 2016 due to "illegal, defective or underinflated tyres".
The organisation's head of road safety, Richard Leonard, said: "Road users must play a bigger role and get into the habit of checking tyre pressures and tread depths and looking out for nails and other debris stuck in tyres before setting out on journeys. These simple checks could save lives."
Researchers studied the tyre debris between 2016 and 2017, and found a number of "alarming" examples of damage, including a space-saver tyre (which are not supposed to be used at motorway speed) that had been "run to destruction", and a number of "string" repairs, which are not considered safe for permanent use.
Bridgestone's technical manager, Gary Powell, said the study involved a "painstaking process of collecting tyre debris over 18 months and analysing it in depth thereafter." Powell added: "With proper vehicle inspection and maintenance programs, many of the failure methods noted should be detectable and preventable."
Which are the best online tyre retailers? We tested the best, but there was only one winner…