Cyclists could face same punishments as drivers
Motoring lawyer Nick Freeman calls for new penalties for cyclists, drawing terse response from Cycling UK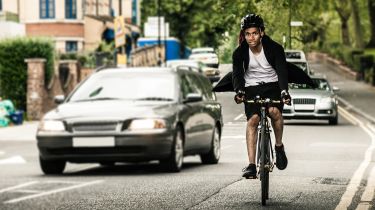 One of Britain's top motoring lawyers is demanding new penalties for cyclists, as well as a controversial scheme to register the almost eight million cyclists who use Britain's roads.
The scheme would mean bicycles being issued with number plates, or cyclists being forced to wear numbered tabards. It's designed to enable the authorities to track rogue riders, and punish them with the same points and penalties faced by drivers.
Nick Freeman, styled 'Mr Loophole' by the tabloid press, is better known for representing high profile celebrities such as David Beckham and Paddy McGuinness when facing driving charges. His latest intervention follows a government consultation on creating a new offence of 'causing death by careless cycling'.
"Though every death is a terrible tragedy, the number of cases involving collisions between cyclists and pedestrians is minute. In contrast, there are countless situations every day in which thousands of cyclists recklessly cut red lights, ride on the pavement and generally use their bikes without due care or much worse," Freeman told the Daily Express.
"As someone who travels 30,000-50,000 miles a year, I see this all the time. That's why it isn't enough just to tidy up bits of the statute. What the Government currently proposes is simply a headline grabbing vote-winner. In reality, it does nothing to address the real issue of road safety."
The comments have attracted a pithy response from Cycling UK: "In 2014, after one of his clients was convicted of causing the death of an elderly rabbi by careless driving, Mr Freeman blamed the collision on the rabbi's traditional dark clothing," says the organisation's Head of Campaigns Duncan Dollimore.
"Calling on the Government to require pedestrians to light up at night, he blamed the victim for failing to be more visible rather than his client for failing to look. His plans for road safety need to be considered in that context, and with due regard to the fact that he's earned his fortune finding loopholes to help celebrity clients evade the road traffic laws that are designed to make our roads safer, even if they're not always perfect."
Check out the 11 car safety systems that are set to become mandatory by 2021…