UK aims to lead the world in low emissions transport, says Theresa May
PM earmarks £106 million for battery tech and green vehicles, says she wants Britain "leading from the front" with zero-emissions cars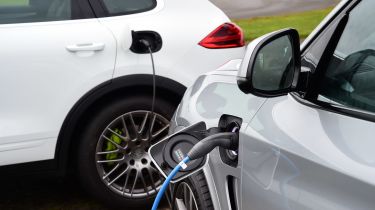 The Prime Minister is to set out plans for the UK to be a world leader in green transport and battery technology, reiterating plans for all cars and vans to be "effectively" zero emission by 2040.
Theresa May is using the Zero Emission Vehicle Summit to announce her intention for the country to become a world leader in future transport, with a £106million funding boost for green vehicles, new batteries and low-carbon tech. She is also expected to announce £500million of investment from a number of companies, with 1,000 UK jobs being created.
• Best low emissions green cars
The Prime Minister is expected to say she wants "to put the UK at the forefront of the design and manufacturing of zero emission vehicles" as the country gears up to make all new cars and vans "effectively" zero-emissions by 2040, and for all cars to be zero-emissions by 2050.
Mrs May will also say the UK is "taking significant strides forward" in green transport, calling the Government's Road to Zero strategy "the most comprehensive globally". Her speech continues: "Today we have provided over £100 million of funding for innovators in ultra-low emission vehicles and hydrogen technology. With a further £500m of investment from key industries in this sector."
May will say the measures are intended to "drive the design, use, uptake and infrastructure necessary for cleaner, greener vehicles" as the UK seeks to meet the Paris Climate Change Agreement.
Firms line-up to invest in low emissions vehicles
Companies expected to announce investment include Aston Martin, which will confirm £50 million for its St Athan facility in Wales, which will become the company's electrification headquarters ahead of the all-electric RapidE, expected next year.
Engine specialist Cummins, meanwhile, is to set aside £210 million for research and development in automotive and related industries over the next three years. Cummins is best-known for its diesel engines, which power everything from fire engines to mining trucks, but the American company recently said it would have an all-electric powertrain for the urban bus market by 2019.
Countries attending the Zero Emission Vehicle Summit in Birmingham include Italy, France and Denmark. Those countries, as well as UAE, Portugal, Belarus and Indonesia and four others, are expected to sign what's being referred to as 'the Birmingham Declaration' – a promise to commit to a zero emission future, improve infrastructure, support research and development, and encourage uptake of new technologies via consumer incentives.
• Best plug-in hybrids to buy now
Commenting on the Prime Minister's announcements, Edmund King, president of the AA, said: "The UK has the opportunity to lead the way on electric and ultra-low emission vehicles, but we need to create the right environment for the technology to thrive and flourish." Citing research showing that eight out of 10 drivers considered a lack of chargers a "stumbling block" to EV ownership, he explained that "more work needs to be done to build a sustainable, easy to access and use charging network."
King also called for greater clarity on diesel, as "many feel that the decision they made in good faith years ago [to buy a diesel car], could now come back to haunt them". King said three-quarters of drivers consider a diesel scrappage scheme "would help encourage them to buy an ultra-low emission vehicle.
Earlier today Jesse Norman, the Minister for low-emission vehicles, announced a £2 million "funding pot" to support the uptake of e-cargo bikes, electric delivery bikes ministers hope will ease pollution in towns and cities by making a significant number of last mile deliveries.
Other recent green incentives announced by the government include proposals to fit environmentally friendly cars with green number plates.
Check out our round-up of the best electric cars on sale now...