Green number plates for electric cars arrive
New and used EVs can now wear number plates with green flashes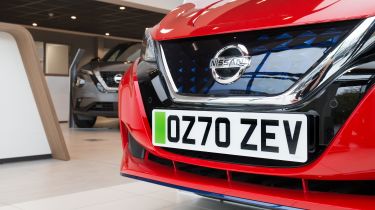 Electric cars can now be fitted with green number plates, with both old and new EVs able to display the plates.
The first driver to get a green plate fitted was Transport Secretary Grant Shapps, who had a Tesla Model 3 adorned with the eco-conscious-signalling registration mark. Shapps said: "Green number plates will help increase awareness of cleaner vehicles on our roads, demonstrating that a more environmentally friendly transport future is within our grasp."
The green strip for EV number plates was announced in June by Shapps, to both further raise the profile of battery-powered cars, and pave the way for possible incentive schemes to encourage the take-up of electric vehicles. The plates have been available since Tuesday 8 December 2020.
Rather than being a fully green plate, EVs will have conventional white and yellow plates on their front and rear, but the plates will feature a green vertical flash on their left-hand side.
The green plates are being spearheaded by the Department for Transport (DfT) ahead of a ban on the sale of new conventional internal-combustion engined cars from 2030, and the UK's aim of becoming carbon neutral by 2050.
The plates will make it easier to identify electric cars, enabling local authorities to design and implement new policies that will encourage more people into them, such as cheaper parking and free entry into clean air zones.
London's Congestion Charge Zone already grants free access to the Capital's central district for owners of EVs, though drivers must pay £10 and register their electric car to benefit from this, and the process needs repeating annually.
But, even if future clean air zones rely on the same DVLA data rather than green flashes on number plates, ministers may hope that by increasing the prominence of EVs, future car buyers may be nudged into the electric revolution, the green plates acting as something of a badge of virtue.
The move to introduce green number plates followed a consultation launched late last year, with the proposals inspired by a scheme in Ontario, Canada. The Canadian programme sees EV and plug-in hybrid drivers given free access to toll lanes and car-pool lanes, even if only one person is in the car, and has led to an increase in EV purchases.
Concerns have been raised over privacy, though, with fears the plates could make further use of the UK's vast network of automatic number plate recognition (ANPR) cameras.
The Government's independent Surveillance Camera Commissioner previously warned green number plates could lead to "an unqualified extension to the role of ANPR", a network that makes at least 10 billion number plate scans a year, and issues around £100 million in fines annually.
Announcing the green EV number plates back in June, Transport Secretary Grant Shapps said: "A green recovery is key to helping us achieve our net zero carbon commitments while also promoting economic growth."
At the same time, the DfT also announced a further £12 million in funding for research into EVs and hydrogen cars, relating both to propulsion systems and infrastructure, money the Transport Secretary says will help UK firms "remain at the forefront of low carbon innovation and research.'' A further £2 million will be made available for small and medium-sized businesses working on zero-emission research.
The subsequent announcement of the acceleration of the ban on the sale of new petrol and diesel cars brought with it further funding, with £1.8bn of central investment set aside for EV charge points, and £582m for vehicle grants.
Commenting on green plates, Edmund King, AA president, said: "Having a green flash on the number plate may become a badge of honour for some drivers. We support this concept which shows that the EV revolution is now moving from amber to green."
Click the image below for our gallery of the best electric cars you can buy right now...