How to cash in on personalised car number plates
Selling a personalised plate can be an extremely lucrative business. Here's how you can cash in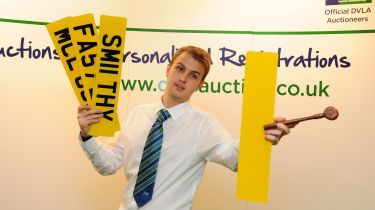 Personalised number plates are big business. In fact, their estimated worth in the UK in 2012 was £2.3billion, and in November 2014, the plate '25 O' sold for a record-breaking £518,000 at a Driver and Vehicle Licensing Agency (DVLA) auction. With all that money available, could it be the right time to cash in on your own investment?
The first part of the process is getting a valuation for your plate – beware, though, as this isn't an exact science. "Plates are a really hard thing to value. Even after 30 years of doing it, we could get five or six people who might value one differently," Regtransfers.co.uk's John Doherty told us. "The prices would be in a similar ballpark, but slightly different."
• Record-breaking plate to go on Ferrari 250
Essentially, a plate is worth what someone is willing to pay for it. Remember, every plate has a particular audience, and what's valuable to you might not be to the next person. Generic initials and nameplates tend to sell pretty easily, as it's likely that someone else in the country has the same name as you and is after a personalised plate. Popularity "One thing we'll look at is the popularity of the name and initials on a plate.
You could have something like '8 JJJ', which looks good, but how many people have the initials JJJ?" Doherty added. "It's also worth seeing what else is on the market. If there are 20 or 30 similar plates, then the valuation is going to be less."
• End of the UK paper driving licence: all you need to know
The speed of a sale can vary, too. Funny phrases may be a little harder to move on, as they won't be to everyone's taste, while plates that are difficult to decipher will take even longer to sell. "We never give a guideline on how long it will take to sell a plate, but if they are popular initials and names and there is a market, they will go quicker. However, words and comical phrases that people have come up with – not so much," explained Doherty. What he does agree on, though, is that if you are looking to sell a plate, there aren't many places that you can go.
• Rude number plates banned by the DVLA
"The options for sellers are very limited, and that's the problem. The DVLA sells newly published plates, but for second-hand ones, you need to go through a dealer or put an ad out – so, there's very little choice," Doherty said.
To help you get the most for your plate, Auto Express has run down the top options for selling, together with the pros and cons of each method.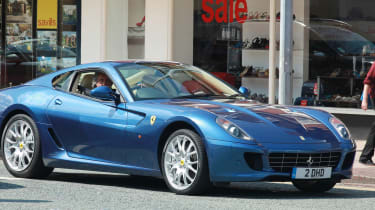 The options for selling your plate
Specialist companies
One of the easiest ways to sell your plate is to take it to a specialist company, such as regtransfers.co.uk, nationalnumbers.co.uk or britishcarregistrations.co.uk, which will advertise your plate and look for a buyer. However, this method does have its flaws. You'll have to pay, as companies often charge a fee for selling the plate, plus there's no definitive way of knowing the valuation you're given is what the plate is worth.
Auction websites
Another way of selling your plate is through an auction site like eBay. This way you can put a reserve on your item to ensure that you're getting what you think it's worth. As with anything on this kind of website, though, getting the right buyer is often down to luck. Choosing to take your plate to an auction means you won't be able to guarantee a sale or that the plate will get anywhere near your reserve price, either.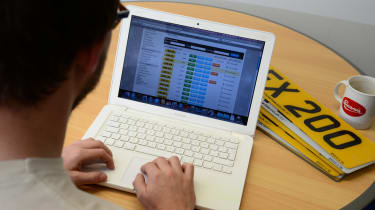 Private sale
If you're not keen on relying on other firms or websites to shift your plate and you don't want to pass on part of the earnings, you can always advertise it yourself. There'll be an initial outlay for advertising, whether it's online at sites like Gumtree or in local ads, but this is likely to be lower than the cost of using other methods. The main issue is that people may not see the ad, and therefore you're unlikely to get the same volume of prospective buyers.
• Car clocking: is mileage correction illegal?
Buying a personalised plate
Buying a personalised plate is more straightforward than selling one, and there's money to be made in the long run, too, as Doherty explains: "There is an investment value. If you buy wisely, you can end up making a good profit." To get your hands on one, the first place to look is the DVLA. It holds numerous auctions throughout the year, where they sell newly published plates, although these tend to be relevant to the plate changes for March and September. For other plates, you can go to auction sites, dealers or look for private ads.
Of course, you'll need to find the ones that are relevant to you and what you are after, which will be more difficult. Dealers, on the other hand, offer a search facility on their websites, so you can find ones that work with your name or initials. After that, it's up to you to bid the price you think the plate is worth. If you're successful in buying your plate of choice, you'll need to inform the DVLA using the V750 certificate of entitlement or V778 retention document along with your V5C.