Record-breaking private plate to go on Ferrari 250 SWB
DVLA smashes British record as 25 O sells for £518,000, will sit on Ferrari previously owned by Eric Clapton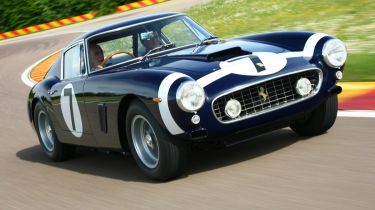 The British record for the sale of a personalised plate has been smashed at the DVLA's 25th anniversary auction.
The '25 O' plate went for more £500,000 and is destined for the Ferrari 250 SWB once owned by music legend Eric Clapton. It beat the previous record of £357,000 paid for '1 D' in March 2009.
Leading Ferrari collector and dealer John Collins was the buyer for the latest record breaker and parted with £518,000. The 'O' series is particularly popular and has raised millions alone down the years. '26 O' was top seller at the previous auction in September but went for a now measly £36,000.
• Most expensive cars ever sold at auction
Even more impressive was that John Collins' huge purchase came just three hours after he'd paid a staggering £130,320 for '250 L'. This will sit on a rare 1964 Ferrari 250 GT Lusso.
John said: "I was just determined to own them, it was just a case of how much I was going to have to pay for the privilege. I'm not too sure [what my limit was], it could possibly have been the first £1 million personalised registration."
• Ferrari 250 GTO: most expensive car ever
The record success came in the DVLA's 150th auction which is also in its 25th anniversary year. Plates were first auctioned in 1989 and since then more than £2 billion has been made. This money is diverted back to the central Government.
Jody Davies, DVLA personalised registrations' events manager added: "What a spectacular way to mark our 150th auction during our 25th Anniversary year. While we had high hopes for both registrations, we never dreamt they would be so successful and enable us to make history for the DVLA."
• Rude number plates banned by the DVLA
Top 5 sellers from the 25th anniversary auction
| | | |
| --- | --- | --- |
| 1 | 25 O | £518,000 |
| 2 | 250 L | £130,320 |
| 3 | CU11 ENS | £26,648 |
| 4 | FU11 ERS | £23,202 |
| 5 | 1 HJW | £21,048 |