Daimler chairman Dieter Zetsche to stand down in 2019
Mercedes' parent firm confirm Zetsche will join the supervisory board next year, with Ola Kallenius replacing him as Daimler boss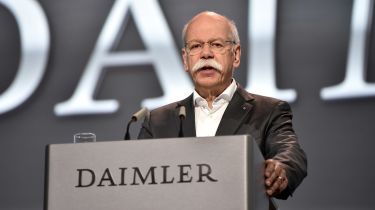 Mercedes parent firm Daimler has announced that its current chairman, Dieter Zetsche, is to stand down from his position next year.
The 65-year-old - who is the head of Mercedes-Benz Cars, as well as the chairman of Daimler's board of management - is being moved to the supervisory board as part of a transitional period that will see him becoming chairman of that organisation in 2021.
Zetsche's replacement will be Ola Kallenius, currently the Member of the Board for Group Research and Mercedes-Benz Cars Development. The Swede will become the first non-German to take the helm of Daimler - a multi-national corporation whose interests include not only Mercedes cars but also brands producing trucks, motorcycles and buses.
The move will bring to an end more than a decade of Zetsche leadership at Mercedes; he has been the head of the cars division since 2006. However, his age and the relatively short extension at his last contract renewal in 2016 (three more years, taking him through until December 2019) had led to some speculation about his future plans. It also comes at the end of a turbulent year for Daimler's share price; it has fallen 24 per cent in 2018, and it dropped a further 2.4 per cent immediately following the latest announcement.
Zetsche has suggested that Kallenius's nationality may have played a part in his selection as his successor. "In various positions at Daimler, Ola Kallenius has earned not only my respect, but also the recognition of his colleagues in very diverse areas. At the same time, he contributes a valuable international perspective," Zetsche said. "I very much welcome the fact that the Supervisory Board has made this forward-looking personnel decision."
Daimler announced at the same time that as part of the restructure, current AMG boss Tobias Moers is to start reporting in directly to the boss of Mercedes-Benz Cars. The performance sub-brand's boss had been reporting into Kallenius in his role as head of Mercedes Cars Development, but he will continue to do so after the Swede's promotion, instead of dealing with his successor, Markus Schaefer. The switch is designed to reflect the increasing importance of AMG and its widening integration into Merc's product line-up.
Click here to read all about Mercedes' electric future, with 10 EVs planned by 2022...