UK and South Korea to work together on electric cars and autonomous tech
Memorandum of understanding "will open a new era" between two countries; takes advantage of pre-Brexit trade agreement with Korea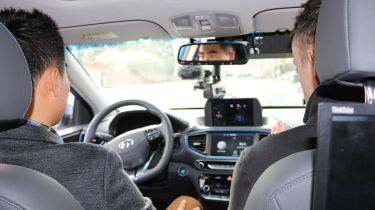 The UK's automotive trade association, the Society of Motor Manufacturers and Traders (SMMT), has announced the UK and South Korea are to work together on autonomous and electric cars thanks to the signing of a memorandum of understanding.
The SMMT and its Korean counterpart, the Korea Automobile Manufacturers Association (KAMA), confirmed at this year's Frankfurt Motor Show that the two nations will pool their respective talents "in developing connected and autonomous vehicles (CAVs) and low and zero emission technology".
The UK is one of the world's leading nations in connected and autonomous cars, with the government keen to take advantage of industry predicted to be worth £907 billion by 2035, and ministers promising to have "fully self-driving" vehicles on our roads by 2021.
South Korea, meanwhile, is one of the world's leaders in 5G network coverage, a key technology for autonomous cars that will see an architecture of 'smart' street furniture and vehicles to help make self-driving cars a possibility. Korea is also one of the global leaders in EV batteries, with firms like Samsung and LG Chem helping the nation's manufacturers produce mainstream electric models like the Kia e-Niro and Hyundai Kona Electric, which have among the longest ranges of electric cars available today.
UK car production hit a five-year low in 2018 amidst Brexit uncertainty and other global headwinds, but factories such as Nissan's Sunderland plant and BMW's MINI Oxford factory contributed towards the 1.52 million cars made here last year. South Korea, while a larger producer (4.03 million vehicles in 2018), has experienced a similar dip in recent years, with production falling by 7 per cent between 2011 and 2018.
Commenting on the memorandum of understanding, Mike Hawes, chief executive of the SMMT, said the agreement "shows how the UK automotive sector is outward looking and, despite multiple headwinds, keen to work worldwide to help secure future success." Hawes added it "offers tremendous opportunities which will help both countries' automotive sectors flourish."
• Fully autonomous cars on UK roads by 2021
Hawes's South Korea counterpart, KAMA's president and chief executive, Marn-ki Jeong, said the deal was "memorable", and that it could "open a new era for active cooperation between the two organisations". He added: "This is the right time for both of us to share the ideas and wisdom we have accumulated to ensure a bright future for the Korean and UK automotive industries."
The South Korean deal takes advantage of a continuity Free Trade Agreement signed by the UK and Korea in August this year, which is aimed at protecting trade between the countries worth £14.6 billion last year alone. The agreement replicates "as far as possible" the deal Korea has with the UK, and " will allow businesses to keep trading freely after we leave the EU on 31 October."
Are you pleased to see the UK working with South Korea? Let us know your thoughts below...