Volta and Prodrive announce all-electric HGV
Volta has partnered with the British engineering firm Prodrive for its all-electric, pedestrian-friendly 16-tonne HGV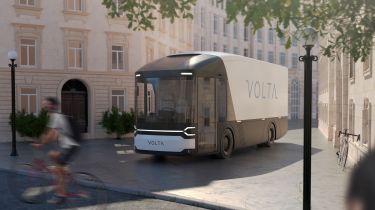 Swedish electric vehicle startup Volta has entered a partnership with Prodrive to produce an all-new, all-electric, pedestrian-friendly 16-tonne HGV. The pair aim to produce a driveable demonstrator vehicle by early summer 2020, before putting a fleet of field trial prototypes into production during 2021.
Volta's aim is to produce a HGV which not only meets zero emissions requirements, but also keeps vulnerable road users, such as pedestrians and cyclists, safe. According to the London Mayor's office, 23 percent of pedestrian and 58 percent of cyclist deaths in London involved a HGV, despite lorries comprising only four percent of the traffic in the city.
• Tesla Semi production pushed back to 2020
As such, the firm's pictured concept HGV places the driver centrally, with passenger seating to either side, which provide a 220-degree field of view. The conventional, high-mounted HGV wing mirrors have been replaced with rear-view cameras to eliminate blind spots and the driver sits low-down, at eye level with pedestrians.
The truck also uses bus-style folding doors on either side of the cabin, which Volta says minimises their intrusion on pedestrian space and allows the driver to easily access the lorry's central driver's seat.
The Volta truck will be based on donor HGV chassis, sharing its conventional towing point arrangement, which allows it to work with existing trailers and loading bays. The platform will also be scalable, offered in sizes ranging between 14 and 18 tonnes – and all versions will be clad in naturally sourced composite body panels.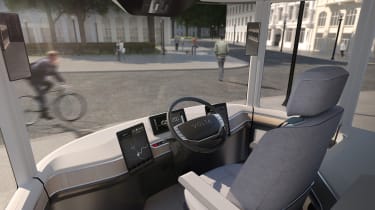 While Prodrive is most famous for its involvement in top-level international motorsport, its Advanced Technology department works in a variety of industries. Here, it's  responsible for the project's engineering and development, and will outfit the donor HGV chassis with electric motors and battery packs – the technical specifications of which should be announced in the coming months. Thus far, we know Volta and Prodrive are targeting a range of 100 miles and a top speed of 50mph for their new all-electric HGV, which limits its use to urban environments.
The two companies are targeting a production volume of 2000 units per year. The first development vehicles are scheduled to enter real-world testing in London and Paris, with a select range of businesses, in two years time.
Do you think the Volta HGV will arrive before the Tesla Semi? Let us know in the comments section below…