Sir Ralf Speth steps down as Jaguar Land Rover CEO
Speth has confirmed he will retire from his position in September this year, after ten years as the boss of JLR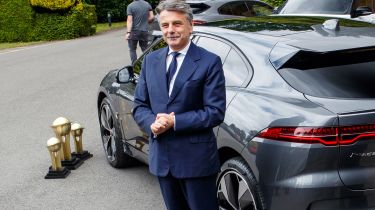 Jaguar Land Rover's CEO, Sir Ralf Speth, has confirmed that he will step down from his role at the helm of the UK's biggest car maker.
An emergency board meeting was held on the morning of 30 January to ratify the decision. Speth also confirmed in the meeting that he will adopt a senior role on the board of JLR's parent company, Tata Motors, and step down as CEO of JLR in September this year.
• UK car, van and engine production figures plummet
Following the announcement on his retirement, Sir Ralf Speth said: "I feel very honoured to have worked with so many dedicated and creative people, both inside and outside of JLR. We have elevated Jaguar and Land Rover. I want to say thank you for all their support and commitment.
"We offer our customers multi-award-winning products and will continue to surprise with the best pipeline of new, innovative products we have ever had. Personally, I am looking forward to new and exciting challenges."
In his ten years as CEO, Speth has had a rollercoaster ride with the business. Massive investment in product saw huge profits, especially across the Range Rover business, with a sales boom in China and across the US contributing to JLR's boost in fortunes. This led to big increases in the workforce and investment in factories in the UK and overseas.
However, with sales of diesel-engined vehicles slumping, on which JLR relied in many markets, plus a slow-down in the Chinese market, JLR went into the red and huge rounds of redundancies and cost savings were implemented.
Only recently have Jaguar sales picked up thanks to the eventual launch of the E- and F-Pace SUVs, while the all-electric I-Pace – winner of Auto Express Car of the Year in 2018 and World Car of the Year in 2019 – has put JLR on the electrification map.
Jaguar Land Rover's return to profit
Jaguar Land Rover's results for the third quarter of the 2019/2020 financial year are expected to show the company's continued return to profit, offering the perfect backdrop for Speth's announcement.
However, rumours are circulating about JLR's continuing cuts, with question marks hanging over Jaguar's continued involvement in Formula E and the JLR-owned creative agency Spark 44.
Speth has been a long-time supporter of British industry and innovation, and has often spoken passionately about the need to encourage young people to find employment in the automotive industry. He was rewarded for his work in the automotive sector in 2015, by being appointed an honorary Knight Commander of the Order of the British Empire. This was made substantive last year, allowing him to officially use the title of Sir.
An announcement outlining Speth's replacement is not due for a while. However, curreen FCA CEO and former Jeep boss Mike Manley (who, like Speth, is an Auto Express Hall of Fame recipient), has been linked with the position.
Read the full 2019 Auto Express Brit List here...