Holden brand to be axed by General Motors by 2021
Iconic Australian brand to be discontinued as General Motors pulls out of right-hand-drive markets altogether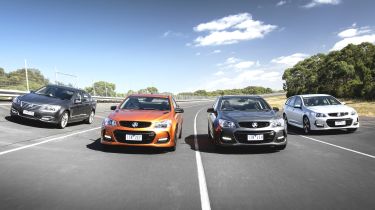 Australia's most well known carmaker Holden is to be culled by owner General Motors, which has decided to wind down all of the brand's operations in Australia and New Zealand by 2021.
The move brings an end to the Holden marque's 164-year history. The brand, started as a saddle company, has been in the car industry since 1908, and has been owned by General Motors since 1931.
• GM unveils the Cruise Origin, its first autonomous car
Previously established as Australia's best-selling brand, the company has fallen sharply down the sales charts over the last two decades. 
Sales in 2019 were around a quarter of what they were at the turn of the century, and manufacturing ceased in Australia in 2017. Today, the marque's line-up consists of imported and rebadged vehicles from other GM brands.
Ditching the brand is part of a wider restructuring occuring behind the scenes at General Motors. GM is investing more and more in China and its home US market, and right-hand-drive markets like Australia and the UK are no longer part of the company's plans. To that end, GM has also pulled Chevrolet from the Thai market, and the company's plant will be sold to Chinese firm Great Wall. 
GM International Operations Senior Vice President Julian Blissett said: "GM undertook a detailed analysis of the investment required for Holden to be competitive beyond the current generation of products. Factors impacting the business case for further investment included the highly fragmented right-hand-drive markets, the economics to support growing the brand, and delivering an appropriate return on investment.
"After comprehensive assessment, we regret that we could not prioritize the investment required for Holden to be successful for the long term in Australia and New Zealand, over all other considerations we have globally." 
Responding to the news, Australian Prime Minister Scott Morrison said: "I am disappointed, but not surprised. But I am angry, like I think many Australians would be."
What is your favourite car from Holden? Let us know in the comments below...