MINI and Rolls-Royce ranges set to expand
MINI will add more models, and the Rolls-Royce Ghost family could include an SUV, Auto Express has learned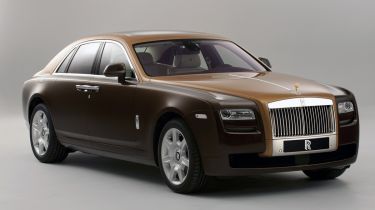 More MINIs are on the way, according to new MINI and Rolls-Royce boss Harald Krueger, which could see the range expand to as many 10 cars in the next couple of years.
Krueger, member of the BMW board of management for MINI and Rolls-Royce, but based in Munich, told us that no decision had been made on the 'mini' MINI Rocketman, but two or three new models will join the range. Next week's Paris Motor Show sees the public unveiling of the MINI Paceman – the seventh car in MINI's line-up.
However, in spite of a £750 million investment in BMW's plants in the UK in Oxford, Hams Hall and Swindon, any additional MINI models are likely to be built abroad with the Dutch Nedcar factory a likely place.
"Oxford will always be the heart of MINI" said Krueger, "And Nedcar is well placed not too far from Oxford."
Krueger was also keen to stress the importance of 'Britishness' to MINI, with the UK also being the second biggest market for the brand, behind the US. However, growth of 30 per cent in China over the past year could well change that in the coming years.
Any new car would have to be "go kart-like, emotional, exude Britishness and be profitable", according to Krueger. However, he also ruled out a seven-seater MINI like the Fiat 500L, saying: "I'm not sure this is a really nice car."
There would be more MINI special editions, such as the GP2 (which has already sold out) and those named after London streets.
Krueger also has responsibility for Rolls-Royce, which he says will "absolutely always be built in Britain. There is no alternative to building Rolls-Royces somewhere else – the UK has so many bespoke competencies that you can't get elsewhere."
Rolls-Royce's future includes more bespoke, high-profit cars like the Phantom-based Aviator coupe launched at Pebble Beach. But Krueger is also looking to create a Ghost family.
Although he was quick to point out that there had been no discussions about a Rolls-Royce SUV at board level, it was clearly something he had given some thought to, especially following Bentley's toe in the water with its EXP-F 9 concept.
However, a lower, sportier, faster Ghost, probably in coupe form, was a distinct possibility. Krueger did rule out any one-off Rolls models with bodywork changes like the McLaren X1, though: 'We'll change some things on a Rolls-Royce, but not the bodywork.'
Do you think Rolls-Royce should build an SUV? And what do you think should be next for MINI? Have your say in the comments below...