"It's time people who make the rules on cars knew about cars"
Editor-in-chief Steve Fowler is concerned by penalties on diesel cars after years of financial encouragement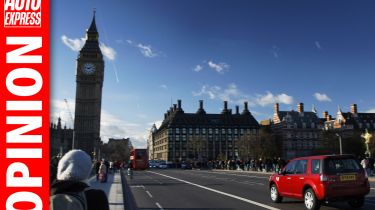 If you drive a diesel, it's likely going further on each gallon of fuel and the prospect of lower tax rates (in the form of Vehicle Excise Duty or company car tax) helped sway your decision.
For many years now, our Government has encouraged us to go low CO2 by buying diesel, and rewarded us for doing so. Right decision at the right time, the politicians would say. But while the same regulations stay in place at a national level, many local politicians, faced with meeting targets for local pollution, are promising penalties for diesel owners – all diesel owners.
And here's the rub – not all diesels are the same. If you buy a car post-September this year, it'll comply with the very latest Euro 6 emissions regulations – it has to, it's the law. And Euro 6 brings rather stringent rules when it comes to emissions that are important to local air quality: nitrous oxides, hydrocarbons and particulate matter. It means that diesel cars are very nearly as clean as petrol cars in that respect, while retaining a clear advantage on CO2.
However, some local legislators seem to be treating all diesels – at home and abroad – with the same dirty brush. That's just plain wrong and unfairly expensive for many car owners. Euro 6 diesels are cleaner than Euro 5 diesels, which are cleaner than Euro 4 diesels. And if your diesel doesn't have a particulate filter (introduced as part of Euro 4 regulations), it really is a dirty diesel.
Where does that leave you as an owner or when you're buying your next car? It's more important than ever to spend time researching to make sure you get all the facts to buy the right car for you. If only the words researching and facts were more important to the legislators making decisions on our behalf...
Are you planning on buying a deisel or petrol as your next car? Let us know why below...