Jenson Button staying with McLaren for 2016: full interview
Jenson Button tells Auto Express he'll continue in F1 with McLaren next year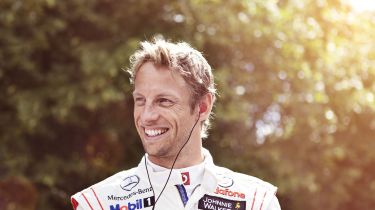 Jenson Button has told Auto Express that he'll be remaining in Formula One with McLaren for 2016 – and possibly longer.
Speaking at the Esso Synergy Fuels launch in London on Wednesday night, the 2009 World Champion told us: "As Ron [Dennis] stated at the weekend, I have a contract with the team, so I'll be with the team next year."
Button also talked enthusiastically about coming developments in F1 – including for the 2017 season, indicating he may want to remain at the top level of motorsport for some years yet.
"For me, the exciting year is 2017," he explained. "There's going to be so much more mechanical grip – from what I've seen it could be four or five seconds quicker a lap through mechanical grip and aerodynamics. That for me is exciting, that takes me back to 10 years ago. Also, I've just heard that next year they're going to be making the cars sound a bit better! F1 isn't in a bad place at the moment and it's going to get better. Next year will be better and in 2017 F1 is going to be mega – I think there's a lot of excitement out there."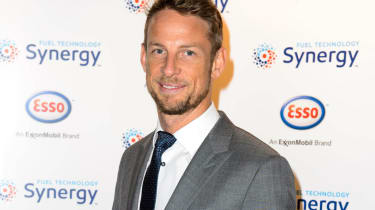 Signs of progress at McLaren
Button conceded that this season has been very difficult, but says there have been signs of progress throughout. "I've had times this year in qualifying where I feel I've had a great lap, like Spa," he went on. "Obviously the performance wasn't there in terms of outright pace, but the feeling of the car was very good. We don't have the same power output as the top guys at the moment, but it's a very young project still. We're a couple of years behind in terms of development. But the output we have now is beyond what we had last year, so Honda are doing a good job.
"It's very difficult to compare ourselves with people who have so much more experience with this power unit – it's not a straightforward V8 like we had before, it's so complicated with the electric motors and so on. We want to be succeeding and we want to be at the front, but every race we come to, there's something new. Honda are always improving and working flat out.
"On the engine side, I see improvements and I feel over the winter there'll be a big gain. With the car, it's good – there's still a lot of work we need to do next year to be competitive, but it's definitely going in the right direction. I've spent a lot of time talking with the team and there's very good direction there, so I have a good feeling for the future."
Demanding F1 calendar takes its toll on teams
Button also welcomed the revised 21-date F1 calendar that was confirmed by the FIA on Wednesday evening, but sounded a note of caution about such a long schedule's effect on the team personnel.
"For the drivers, it's fine, we just travel around, it's no problem," he said. "But for the teams it's very difficult, for the mechanics it's pretty difficult to hold down a relationship when you're working in F1, but it's going to be even more difficult next year. They're going to be tired a lot of the time, so I really feel for those guys. Hopefully they'll come to an understanding about where it's too much for the guys – otherwise you'll get too many people coming through the sport and people not staying long enough in a team. Making the start of the season earlier is a good thing, as it means we can break up the schedule a little bit more."
Will Button race at Le Mans?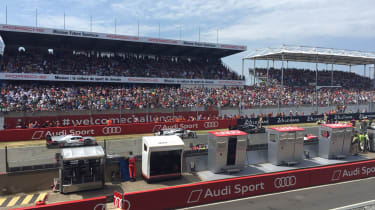 During recent discussions over his future, Button suggested Le Mans and the World Endurance Championship as possibilities he was looking at, but the latest calendar means he'll have to wait until he's left F1 before racing at the French 24-hour classic, as it now clashes with the new European Grand Prix in Baku, Azerbaijan.
• Fastest Nurburgring lap times
"I like what Bernie's done with that," laughed Button. "He's just made it clear that F1 drivers are not supposed to be driving anything else except F1 cars – you can't race at Le Mans now!"
In 2015, Force India F1 driver Nico Hulkenberg raced for Porsche at Le Mans, forming part of the winning crew with Brit Nick Tandy and Kiwi Earl Bamber. Any possibility of the German defending his crown has now been scuppered.
Button remains enthusiastic about the race, even if it's now off the table for the immediate future. "Every driver thinks Le Mans is exciting," he said. "It's a massive team effort and a massive accomplishment to win a 24-hour race. It's basically a 24-hour Grand Prix these days, it's flat out the whole way. There are many things I want to do in the future – but not yet."
Button is next in action for McLaren at the Russian Grand Prix in Sochi on 11 October.
What to you think of Button staying at McLaren? Let us know in the comments section below...
Jenson Button was speaking at the Esso Synergy Fuels launch in London. The new and improved Synergy forecourts and fuels use the latest technology and innovation to provide the best possible experience to customers. To find about more, visit esso.co.uk/synergy.