Ford reveals 'Colour Editions' of B-Max, Fiesta and Focus
Eye-catching personalisation options may add to the appeal of Ford's small car range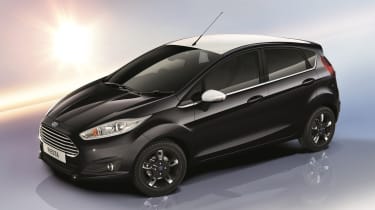 Ford has announced a series of special 'Colour Editions' for the B-MAX, Fiesta and Focus. These cars feature new colour combinations as the name suggests, but also get a boost in standard equipment to entice buyers.
The B-MAX lineup will grow with the addition of the Zetec Red Edition, White Edition and Silver Edition. In addition to the choice of colour, buyers are offered the 1.0-litre EcoBoost engine with 138bhp, or the ageing 1.4 and 1.6-litre units.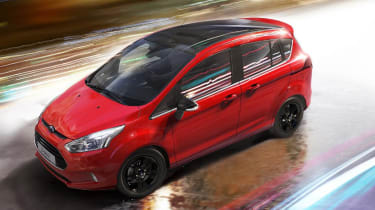 Styling options on the B-MAX include a black painted front grille, rear spoiler, 16-inch black alloy wheels, rear diffuser and privacy glass.
The Fiesta will be offered as a Black or White edition, with contrasting roof and wing mirrors. 15-inch alloy wheels feature, with white inserts, while inside black upholstery combines with white stitching and white inserts on the door handles.
Ford is offering the 1.25-litre 81bhp engine as an entry-level choice, while the 99bhp 1.0-litre EcoBoost is also available. Buyers are given a choice of three or five-door body styles.
At the top of the colourful family sits the Focus Zetec S Red and Black Editions. The Red Edition combines Race Red exterior paint with a contrasting Panther Black roof, mirrors and grille surround, while the Black edition reverses this.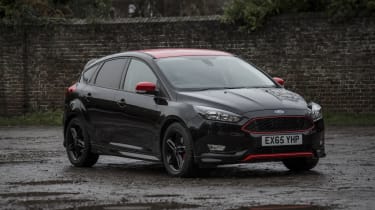 Inside, the centre console is painted black and red stitching features on the wheel, gearstick, handbrake and seats.
The Ford Focus Zetec S Colour Editions are available with a choice of 1.5-litre EcoBoost petrol or 2.0-litre TDCi diesel engines producing 180 and 148bhp respectively. These engines will combine with sport suspension, tweaked and stiffened to improve front-end grip.
The Ford Focus and Fiesta Colour Editions are available to order now, while the B-Max Colour Editions will be on sale from January. Prices start from £13,645 for a Fiesta Colour Edition.
Do these colourful choices increase the appeal of a Ford B-MAX, Fiesta or Focus to you? Let us know in the comments below...