DAB/Apple CarPlay
The Digital Audio Broadcasting (DAB) radio picks up signal digitally over the airwaves, resulting in less static noise through the stereo along with a wider choice of stations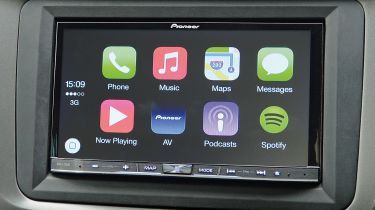 What is it? The Digital Audio Broadcasting (DAB) radio picks up signal digitally over the airwaves, resulting in less static noise through the stereo along with a wider choice of stations. Around 75 per cent of new cars come with one.
Why? The UK Government has been readying the country for a switch to digital radio for years, as it offers more choice and better coverage. Upgrade to a double-height (2-DIN) DAB unit, and you can also get features like sat-nav.
How? A DIY expert will be able to deal with the wiring harnesses and external windscreen antennas, but be sure to check vehicle compatibility before purchase.
Should I do it? A DAB system will improve the sound quality in your car, and some come with the latest features – like Apple CarPlay. It's worth the money in our opinion.
Price? Our 2015 Product of the Year, Pioneer's AVIC F70DAB, costs £629.99, but comes with Apple CarPlay and sat-nav. Smaller, single-height DAB units start at £129. 
Click below to find out about more kit that you can fit to your car...