Cruise control
Find out about the kit that you can fit to your car.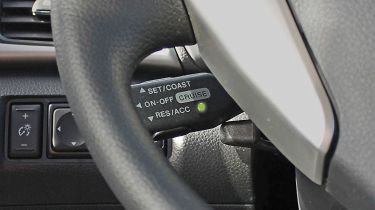 What is it? Cruise control takes over the throttle from the driver and manages speed automatically.
Why? Using cruise control adds comfort to long-distance journeys. It will also help you avoid fines in average speed camera zones, and boost fuel economy.
How? It's trickier to fit than DAB, as you'll need to remove the likes of the steering wheel airbag. The ECU may require reprogramming, too; professional help is advised.
• Cruise control and adaptive cruise control: complete guide
Should I do it? Most cruise control set-ups won't stretch the budget, despite a visit to the garage, and the benefits are ease of driving and lower fuel bills. Go for it if you can get your hands on a manufacturer-approved system.
Prices? These vary for make and car, but systems start from around £60, which is something of a bargain. 
Click below to find out about more kit that you can fit to your car...