Hennessey Venom GT Spyder is world's fastest convertible
Hennessey Performance has broken the world record for the fastest production convertible car with a 265.6mph run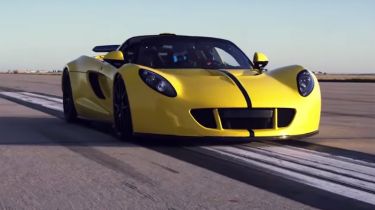 The battle over who makes the world's fastest car has raged for years and Hennessey has staked a claim for the title with its Venom GT Coupe which managed 270.4mph in an unofficial run in 2014. Now the American company claims to have managed a less salubrious but official record for the world's fastest convertible with the Venom GT Spyder.
The sobering speed beat the existing convertible record of 254mph held by the Bugatti Veyron Grand Sport Vitesse and was achieved on the 2.9-mile long runway belonging to the US Navy in Lemoore, California.
The updated Venom GT Spyder features a revised 7.0-litre twin-turbo V8 that produces 1,451bhp. That's 207bhp more than the outgoing car, and allows for reported figures such as a 0-60mph time of 2.4 seconds and a 0-100mph time of 4.4 seconds.
Hennessey is set to build three of the cars to celebrate the record breaking run with each one costing a little over £1m plus tax.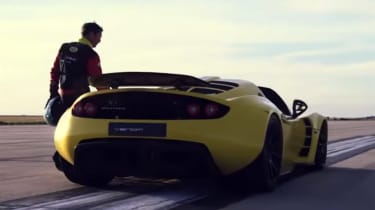 The less powerful Venom GT Coupe achieved its verified top speed of 270.49mph back in 2014, but the Guinness Book of World Records refused to count that as a record because the speed run wasn't completed both ways down the runway. That left the official world's fastest car title in the clutches of the Bugatti Veyron Super Sport which managed 267.7mph.
Hennessey isn't done chasing the ultimate prize in the performance car world, however, and if the latest Coupe version of the Venom GT can't eclipse the Bugatti's mark, perhaps the new Venom F5 will when it finally arrives. Hennessey has previously claimed that the F5 will be capable of 290mph and that might even be enough to keep Bugatti's new Chiron hypercar at bay.
Is the world's fastest car mark still important to car fans today? Let us know your thoughts in the comments section below...