Google brings Android Auto to 'every car' with new app
Free update breaks Google's infotainment system free of in-car display screens. It can run straight from your smartphone.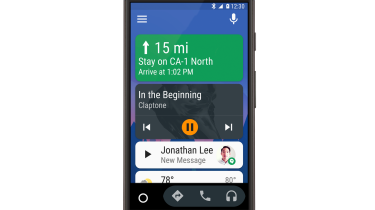 Google has updated Android Auto so that it can be used as a standalone app on your smartphone, no factory fitted in-car display required.
Android Auto is Google's alternative to Apple CarPlay, and it syncs with your car's infotainment system so you can use Android apps from your phone on any compatible in-car display. However, the new version of the Android Auto app means anyone with a smartphone running Android 5.0 or later can download it to get Google's take on in-car infotainment in any vehicle.
• Everything you need to know about Android Auto
Because it's available on phones running older Lollipop software, it means you won't need one of the latest Android devices to use the new app. The app places the Android Auto interface directly onto your smartphone display, just slot it into a dashboard-mounted phone holder and you're good to go.
• Best mobile phone holders: 2016 group test
Rather than letting you use the standalone maps and music apps on your phone in the normal way, Android Auto places them into a streamlined hub, optimised for drivers with bigger buttons so it's easier and safer to use on the go.
Google Maps with real-time traffic is built in, and music-streaming apps like Spotify, Pandora, and Google Play Music are all supported. Countless other third party apps are compatible with the Android Auto software too.
• Everything you need to know about Apple CarPlay
You can make calls and send messages hands free using voice commands, and future voice control system updates will mean you can use mapping and music apps without having to touch a button on your phone either. Pairing your phone to your car over a Bluetooth connection will start the app automatically as well.
The latest version of Android Auto with standalone smartphone support will launch in the coming days, and it'll be free to download for anyone with a compatible device. It is reliant on your phone's data connection though, and it will chomp away at your data allowance.
The news from Google comes in the wake of controversy in the UK over increasing illegal use of hand held mobile phones at the wheel. The Government announced harsher penalties for the offence but the problem seems to be growing with a recent RAC report indicating that 11 million motorists have made or received a handheld call while driving in the last year.    
Would you ditch your iPhone to get Android Auto directly on your smartphone? Let us know below…