Audi announces World Rallycross backing for Mattias Ekström
The German marque has confirmed factory support for defending champion Mattias Ekström's S1 EKS RX quattro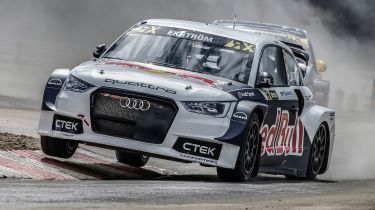 Audi has revealed that it will be providing full factory support for World Rallycross champion Mattias Ekström when the Swede begins the defence of his title at Barcelona's 2017 season opener in April.
Ekström, whose S1 EKS RX quattro propelled him to the individual crown last year, already had access to Audi Sport's suppliers and partners having raced extensively for the German manufacturer in DTM since 2001.
However, the all-wheel drive machine will now receive additional technical support and development from Audi's motorsport division in an effort to stay ahead of competitors such as Ford, Peugeot and Volkswagen.
• World Rally Championship 2017: preview and calendar
"We realize that it's going to be increasingly difficult for EKS to hold its own against the factory teams," said Head of Audi Motorsport Dieter Gass. "So we chose to intensify our World RX commitment."
Together with Finnish driver Toomas Heikkinen, Ekström's EKS outfit also claimed the team championship in 2016.
"We laid a lot of groundwork as a team in the first three years, gathered important experiences and set new standards with EKS," said Ekström. "But it was also clear to us that we'd need support for the future in order to be able to continue on this level.
"That EKS is now receiving factory backing by Audi makes me very happy. I'm convinced that rallycross has a great future, also with respect to potential electrification."
The move follows a huge refocussing of Audi's racing programme, which is now pursuing the development of electric technology having signed up to the 2017-18 season of Formula E.
That news was preceded by an unexpected departure from the World Endurance Championship, including the 24 Hours of Le Mans: a blue riband event that Audi has dominated since the turn of the millennium.
Is Audi doing enough to make up for its departure from Le Mans? Let us know below...