Pre-reg bargains drive down used city car prices
Used values tumble due to glut of pre-registered small cars. 
Prices have fallen 10 per cent in two years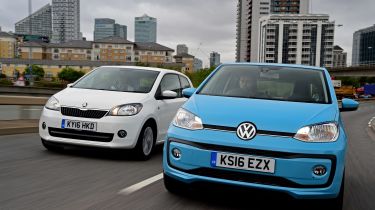 Prices of second-hand city cars have fallen by more than 10 per cent in the past two years, following a massive increase in the number of nearly-new pre-registered models available.
The amount of two-and-a-half to three-year-old city cars on the used market rose by 80 per cent in 2016, following a 34 per cent rise the year before, according to residual value specialist Glass's.
• Pre-registered cars buying guide
It has led to an average drop in value across the sector of five per cent in 2015 and an eight per cent fall last year, meaning buyers can now pick up a bargain as dealers look to shift stock.
Rupert Pontin, director of valuations at Glass's, said: "There's pressure on that area of the market, and cheap retail cars are around in volume, because makers force the dealers to pre-register them."
City cars are targeted due to their lower cost compared with larger models and the fact it's easier to shift smaller, cheaper cars, too. Pontin added: "£50,000 will buy five of those, but it might buy one BMW 5 Series. Equally, once you've priced up with a sensible, monthly personal contract purchase (PCP) figure, it's going to sell much quicker in the used market."
It's the first sign of second-hand car prices dropping after strong performances in recent months. The Glass's chief said the combination of pre-registering, plus the return of thousands of cars bought on PCPs during recent years of record sales, will push prices down even further.
"The drop in prices is based around the volume of vehicles coming back into the market," Pontin added, "but also the fact that pre-registered cars have to show a price advantage over a brand new car, so there's quite a bit of pressure to take prices downwards."
What's the best deal you've ever got on a new car? Let us know in the comments...