1998 vs 2015 crash test: fatality rate 4 times higher in older cars
ANCAP concludes that older cars are over-represented in fatal accidents following Toyota Corolla vs Toyota Auris crash test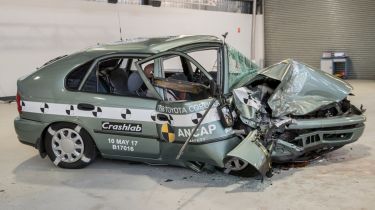 Australia and New Zealand's independent vehicle safety group ANCAP has replicated a head-on collision between two Toyota Corollas from 1998 and 2015 (the 2015 Corolla is known as the Toyota Auris in the UK) to demonstrate the stark difference between safety features in new and old cars.
The crash - footage of which can be viewed in the video below - demonstrates the enormous force passengers are exposed to in aging cars that don't have the structural rigidity of modern equivalents.
Acting on analysis that suggests vehicles built before 2000 are four times more likely to be involved in a fatal accident than those assembled after 2011, the pair of Corollas were launched into each other at a speed of 40mph.
"The older car sustained catastrophic structural failure with dummy readings showing an extremely high risk of serious head, chest and leg injury to the driver," said ANCAP CEO James Goodwin. "It achieved a score of just 0.40 out of 16 points – zero stars.
"In contrast, the current model performed very well with a five star level of protection offered, scoring 12.93 out of 16 points.
"Safety is not a luxury and we want everyone to remain safe on the road, so consumers should look for the safest car they can afford and the safest car that suits their needs."
The experiment is similar to another test conducted by Euro NCAP earlier in 2017, where a Rover 100 from 1997 and a new Honda Jazz were also crashed at 40mph, in that case into a wall.
• Watch: Rover 100 vs Honda Jazz in 40mph crash
The Jazz - the safest supermini currently on sale - maintained its shape after the impact, whereas the 20-year-old Rover virtually disintegrated.
Analysing data from Australia's vehicle fleet, ANCAP found that pre-2000 models were involved in 33 per cent of accidents that led to a fatality, despite only representing 20 per cent of the national car population.
However, although post-2011 vehicles make up 31 per cent of all the cars on Australia's roads, they are only involved in 13 per cent of collisions in which someone is killed.
"It is concerning the rate of fatal crashes is four times higher for older vehicles than for new vehicles," added Goodwin. "We've been tracking the average age of a vehicle involved in a fatal crash, and in just one year we've seen that average increase from 12.5 years to 12.9 years. This highlights the need for a renewed national focus and greater support for safer vehicles."
A similar trend was identified in New Zealand, where the average age of roadworthy cars is 14.3 years, yet the average age of cars involved in fatal crashes is 15.6 years.
How important are modern safety devices to you when buying a new car? Let us know in the comments section below...