Jim Hackett named new Ford boss as Mark Fields retires
Ford Chief Executive Mark Fields has been replaced by Jim Hackett - Ford's former Smart Mobility boss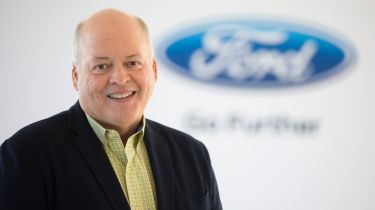 Ford has confirmed the appointment of former Ford Smart Mobility chairman Jim Hackett as its new president and CEO, replacing former boss Mark Fields.
Reporting to Executive Chairman Bill Ford, Hackett will now assume control of Ford's global operations and its 202,000 employees.
In a statement, Bill Ford said: "Jim Hackett is the right CEO to lead Ford during this transformative period for the auto industry and the broader mobility space.
• Self driving cars: everything you need to know
The firm has identified three key areas of improvement going forward under Hackett's tenure, such as sharpening up how the business operates and addressing underperforming parts of it, modernising the firm's operations and ensuring it is well placed to react to future trends in the industry.
Hackett has been on the Ford board since 2013 and has led the firm's Smart Mobility subsidiary since March last year, while former Fields took the reins at the Detroit car maker in 2014 before relinquishing control today.
The New York Times first mooted rumours of Fields' departure, citing pressure on the Ford CEO over the firm's deteriorating financial results. Ford's share price has dropped around 40 per cent since a July 2014 price of $17.72, to $10.87 at the close of trading last Friday.
The Fiesta remains the strongest selling car in Britain - and it recently achieved top status in Europe, just ahead of a new generation of the car arriving this summer. But the bigger picture for Ford in recent times has been one of decline; the NYT reports that global sales so far this year are 25 per cent down on 2016. The company has also experienced a number of recent setbacks with safety recalls and the cancellation of a $1.6 billion factory in Mexico for small cars, in favour of a smaller $700 million investment in Michigan.
According to Ford, former boss Mark Fields, 56, elected to retire from the company following a 28-year career with the Detroit based industry giant.
Is now the time for new leadership at Ford? Tell us your thoughts in the comments.