Half UK speed cameras are switched off
Police forces reveal almost 50 per cent of speed cameras in the UK are inactive, with four forces not having any at all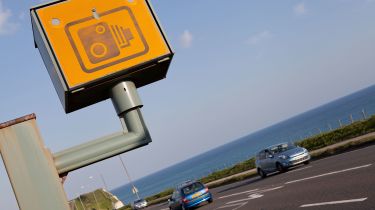 Half the speed cameras installed across roads in the UK are inactive, it has been revealed. Of the 2,838 speed cameras in the UK, just 1,486 are currently switched on.
A series of Freedom of Information requests to the UK's 45 police forces found four - Cleveland, Durham, North Yorkshire and Northamptonshire – don't have any active cameras at all. Northamptonshire police said they kept camera housings in place to deter potentially speeding drivers.
Drivers in Staffordshire may be interested to learn that of the county's 272 cameras, just 14 of them are active, while Derbyshire residents have less than a one in 10 chance of driving through an active camera, as 10 of the county's 112 cameras were switched on when police responded to enquiries.
The Press Association investigation that uncovered the data found just a third of Scottish cameras are switched on, while those heading to Greater Manchester will find only 24 per cent of installed cameras actually working. Conversely, the Metropolitan and City of London police said all their cameras were active, as did forces from Nottinghamshire, Suffolk and Northern Ireland. Nine forces were unable or unwilling to respond to the requests.
Motorists should also be aware that police chiefs say they rotate active cameras, meaning a camera that isn't working one day may be issuing speeding tickets the next. The figures don't cover mobile camera vans and radar guns, either.
Responding to the figures, a spokesman for the National Police Chief's Council said which cameras were active was "an operational matter" and that "All forces have individual responsibility for their use of speed cameras."
• Speed awareness courses: everything you need to know
Jason Wakeford, of road safety charity Brake explained he was dismayed with the figures: "Speed cameras are a proven, cost-effective way of reducing deadly collisions and so it's critical they are operational. We are concerned to see figures which suggest so many are switched off and would urge they are urgently put back into action."
Claire Armstrong Safe Speed, which campaigns for more traffic officers rather than speed cameras took a different tack. Armstrong said the investigation "proves police forces don't believe in cameras". She added that in her view: "Forces are conning the public into thinking cameras are there for road safety because, if they really thought that, every single one of them would be on. I am glad there are only 52 per cent working – and we'd actually like to see less."
What's your view on the big speed camera question? Join the debate in the comments…