Watchdog: Driver foots the bill after tyres mix-up
Reader had done 3,000 miles before realising his tyres had wrong load index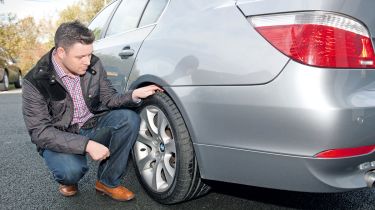 Buying new tyres can be confusing, but fitting the wrong ones for your car can have serious consequences.
When Darren Craven decided to get some new rear tyres for his BMW, he was offered Dunlops at first, before the retailer suggested a cheaper Goodyear alternative. Darren, from Cleckheaton, W Yorks, opted for the cheaper option, but claims at no point was he told the tyres were different.
After three months and 3,000 miles, he noticed the Goodyears had worn heavily. "I saw the wear and thought they could be faulty," said Darren. "Then I looked at them closely and realised the load index was much lower than my previous tyres'."
The load index is the amount of weight the tyres can take, and it's usually listed on a plaque on the inside of a car's door. The original tyres on Darren's BMW had a load index of 95Y, but the new ones were 87Y. Darren went back to his local fitter, Alba Tyres, to get them changed, but it wanted him to pay for a new pair in full.
A Goodyear spokeswoman told us: "These tyres shouldn't have been fitted to this car, full stop. Having a lower load index to what the manufacturer recommends can invalidate your insurance." There are also safety implications, affecting handling and stopping distances, and this could also void the car's warranty.
However, a spokeswoman for the AA told us the garage had not broken the law. She said: "The garage should check what tyre the car requires and has a responsibility to ensure this is correct, but there are no specific tyre regulations."
Motor Codes agreed with this, although it said the customer should also ensure they know what tyres they need and check that these are put on the car.
Alba Tyres claims Darren did know the tyres were different, as it was on his invoice. However, it doesn't have a copy with Darren's signature to back up its claims.
In the end, the garage relented and fitted the Dunlops it offered originally. All Darren had to pay was the £96 difference in price.
Darren's case: At a glance
The problem Darren was told the tyres he bought were correct for his car. But 3,000 miles in, he realised the load index was wrong, invalidating his insurance.
Fitter's response Alba Tyres claims Darren knew the tyres' load index as it was on his invoice, but the company didn't get him to sign it. It did change them for a small fee.
Legal advice Nothing in the law states that retailers have to ensure they sell tyres which fit the load rating of their customers' cars, so when buying new tyres, it's up to you to make sure they're suitable.
Our verdict Alba Tyres wasn't legally obliged to sell Darren the right tyres, but we think it had a moral obligation. The wrong tyre could put a customer's life at risk, and it's vital businesses put safety before a sale.
Do you have a motoring problem that needs investigating? We're here to help… E-mail mail@autoexpress.co.uk or Tweet us @AutoExpress.