Watchdog: Warranty woe as provider goes bust
Our reader took out an aftermarket warranty but when the garage ceased trading, his cover was null and void...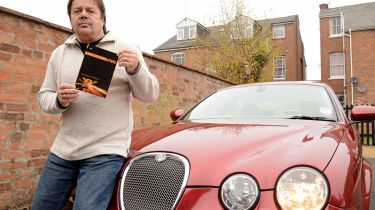 Buying an extended warranty should give peace of mind that if the worst happens, you're covered. Just make sure you know what you're buying. That's a lesson Paul Whitaker learned after the claim on his 2006 Jaguar S-Type was rejected.
Paul, from Leamington Spa, Warwickshire, bought the car with 57,000 miles on the clock from the Jaguar Trade Centre in Birmingham in March. It came with a three-month warranty.
"When it was running out, I contacted Autoprotect Administration to extend the cover for 12 months. I was told I should do it through the garage. I paid £240," Paul said.
Shortly after, the engine management light flashed on – an engine sensor had failed and would cost £272 to fix. But by that point, the Jaguar Trade Centre had ceased trading, and Autoprotect said Paul's warranty was null and void.
He told us: "I can see why Autoprotect wanted me to deal with the garage, because this has allowed it to wriggle out of paying for my claim."
Autoprotect refused to help. A spokesman explained that it simply acts as a claims management company for the dealer that sold the warranty.The AA's legal team confirmed there was no obligation on the company to assist Paul.
But we got in touch with Trading Standards, who had some good news. "If the consumer used a credit card to purchase the warranty and it was for over £100, then they should have the protection of equal liability with the credit card company under Section 75 Consumer Credit Act," a spokesman told us.
Luckily, Paul paid for the warranty using his Visa Debit card, which offers its own guarantee in such cases. He said: "Fingers crossed I'll be able to get my money back.
"At the very least, this will act as a warning to other motorists about checking the small print on their warranty document before handing over their money."
Paul's case: At a glance
The problem Paul paid £240 to extend the warranty on his S-Type. But the garage he bought it from ceased trading, leaving him with no warranty and a £272 bill.
The response Autoprotect said it administers warranty claims for garages, but does not offer a product that is underwritten. So there is no warranty if the garage goes bust.
Legal advice If the company you bought your warranty from ceases trading, your agreement is null and void. But if you paid for the policy on your credit card, you may be able to claim back the money if you act within 120 days.
Our verdict Aftermarket warranties are sold to you to provide peace of mind. But all too often they cause a headache instead. If you are going to buy one, read the small print to ensure you know where you stand.
Do you have a motoring problem that needs investigating? We're here to help… E-mail mail@autoexpress.co.uk or Tweet us @AutoExpress.