UK builds more cars than France for first time since 1966
Rising sales of UK-built cars sees domestic factories move ahead of European rival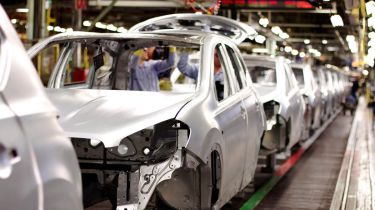 The UK's soaring motor manufacturing industry has seen it surpass ailing neighbour France in terms of total car production for the first time since 1966 say industry chiefs.
As the UK car production speeds up, French car-makers are hitting the brakes allowing the UK to cut in ahead of it and assume its current third place position.
It'll be the first time Britain has been ahead of its gallic rivals since England won the World Cup at Wembley in 1966 and the growth shows no sign of slowing as it accelerates towards a new record high.
Rising sales of British-built cars - both at home and in key export markets – mean France is set to be relegated from third to fourth place in the European production 'league-table, behind Germany and Spain, as Britain overtakes it.
• UK new car sales highest since 2007
Motor industry bosses believe figures to be released later this month will show UK car production nudging ahead to 1.55million cars for 2013 – up from 1.47 million in 2012 and 1.35million in 2011.
By contrast France's car production is expected to slip to around 1.54million cars for 2013 - down from 1.66million in 2012 and 1.88 million in 2011, they say.
And it won't stop there. UK car production is predicted to hit a new all-time record of nearly 2 million within three years on the back of billions of pounds of new investment designed specifically to increase production.
What's behind the UK's car building boom?
The car-building boom is being spearheaded by mainstream British-brands such as Jaguar Land Rover, MINI, and Vauxhall as well as super-luxury car-makers like Rolls-Royce and Bentley. But let's not forget the UK factories of Japanese giants such as Nissan, Toyota and Honda.
France's ailing economy, problems with the Euro, overcapacity, a sluggish domestic market and a lack of business confidence under the current socialist Government are cited as key reasons for its decline in car manufacturing and domestic car sales. This is in sharp contrast to the more favourable economic and business conditions in the UK.
A spokesman for Britain's Society of Motor Manufacturers and Traders (SMMT) said: "We're currently neck and neck with France but Britain's car production is on an upward trend. France's is on a downward trend. We're about to cross. It could well be that the new figures will show that 2013 is the year in which we overtake them."
Powerhouse Germany is on track to report building a massive 5.45m cars in 2013 ahead of second place Spain with a predicted 1.76m, with the UK then tucked in behind just ahead of France.
• UK new car sales highest since 2007• Best new cars for 2014