Diesel cheaper than petrol for the first time in 10 years
Diesel prices have been cut by 2p per litre, while petrol prices stay the same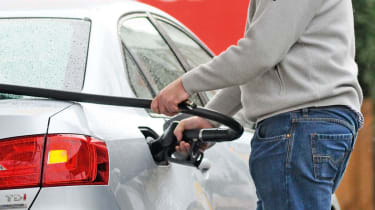 Supermarkets across the UK have slashed diesel prices by up to 2p per litre, making diesel cheaper than petrol for the first time in a decade.
Increased diesel supply has pushed the market price down and is allowing supermarket forecourts to cut their prices in an effort to pass the savings to motorists.
Tesco, Asda, Sainsbury's and Morrisons have all sliced their forecourt diesel prices, with some pumps dropping the prices by up to 2p per litre. Asda-bound motorists are looking to pay a maximum of 112.7p per litre from Tuesday onwards, with petrol currently priced at 113.9p on the cheapest forecourt.
• New UK car tax rules: all you need to know about VED road tax
Records show that the last time diesel was cheaper than petrol was in 2001 – priced at a modest 77.92p per litre, with petrol at 77.94p per litre on average. 
Diesel prices rose within the last decade due to a high uptake of diesel vehicles and slow improvements in UK diesel refining capacity. However a strong British pound and an influx of added supply from the Middle East and other countries has allowed the wholesale price of diesel to drop below petrol. 
More savings in the future
There is also more potential of further price drops in the future, confirmed by RAC fuel spokesman Simon Williams: "With the price of crude oil standing at 56.50 dollars (£36.23) and the pound relatively strong against the US dollar - the fuel trading currency - there is scope for further price cuts of up to 4p per litre off diesel over the next fortnight, and unleaded may even benefit from a slight reduction too due to the continued oversupply of oil."
• Over 18 million illegal tyres estimated on UK roads
While the 10.7 million diesel drivers in the UK are no doubt rejoicing, RAC confirm that petrol motorists should not feel cheated: "Drivers of unleaded petrol vehicles should not feel short-changed - what we are seeing is the diesel pump price coming down to a level closer to what it should be due to the effects of greater refining capacity in the Middle East."
"However, if retailers are buying unleaded and diesel in for a similar price, it is right that they are sold on to motorists at a similar price, or cheaper if the diesel wholesale price is lower."
Now read our summary of the 2015 Budget: new road repair fund and car tax overhaul.