Concerns grow over UK subprime car finance deals
FCA says loan default rates for high-risk borrowers are "on the rise" bringing subprime car finance in the spotlight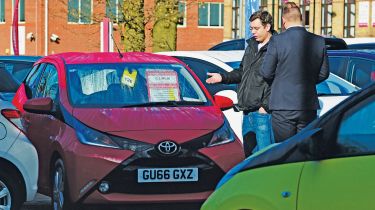 The UK's financial watchdog has warned that the frequency with which borrowers who have poor credit ratings are defaulting on car loan repayments is increasing.
A report from the Financial Conduct Authority (FCA) says that arrears and defaults on loan repayments "have increased somewhat, particularly for higher credit risk consumers."
The FCA inquiry also raises concerns over high-interest loans being issued to borrowers with poor credit ratings, with brokers profiting from the generous commissions these deals can bring.
• Car finance explained: how to pay for your new car
To tackle these issues, the FCA will be sending mystery shoppers out to assess the "customer journey" process, checking whether lenders are complying with regulations and issuing consumers with enough information on loans.
The FCA announced its enquiry into the £40 billion car finance industry back in April 2017, saying it was "concerned" about a lack of transparency in the sector. While full results are due in September, the FCA has published an interim update. The report paints a generally positive picture of the market, but warns changing economic conditions could present potential problems.
Jonathan Davidson, the FCA's executive director of supervision, said: "The good news is that most of the growth has been to lower credit-risk consumers. However, we are also seeing that arrears and default rates, while still low, are on the rise, particularly for higher credit-risk consumers."
Davidson continued: "This is despite favourable credit and economic conditions, which begs the question: if we're seeing this pattern now, what would happen if there was an economic downturn?"
• Bad credit car finance deals explained
Car finance has experienced a relative boom in recent years. In 2008 1.2 million finance agreements were taken out, making up 59 per cent of new car sales – but those figures had increased to 2.3 million and 88 per cent by 2017.
Much of that growth has been driven by personal contract purchase (PCP) agreements, which made up just 34 to 66 per cent over the same period. PCPs are popular with customers due to the comparatively low monthly repayments they bring, but a crash in the used car market could potentially bring losses for lenders.
The FCA says, however, that lenders are "adequately managing" risks from a potential fall in used car values, which "wouldn't materially affect their overall financial soundness" – though they highlight lenders should "consider changes in the market, which could affect their assumptions of residual car values and their financial soundness."
Previous figures from the credit reference agencies (CRAs) – which compile credit history reports on consumers – show car finance went from making up 16 per cent of unsecured personal debt in 2013 to 24 per cent in 2016. The average amount borrowed on cars increased from £13,500 to £15,000 over the same period.
Have you ever fallen behind on your car finance payments? Tell us in the comments below...