Goodyear EfficientGrip Performance 2 review
Well deserved win for Goodyear, the EfficientGrip Performance 2 excelled in refinement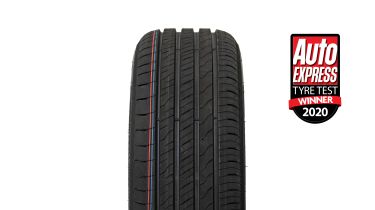 In association with

New for 2020, the EfficientGrip Performance 2 takes a debut win by the narrowest of margins. When Goodyear launched the new design earlier this year, it claimed the newcomer had a 50 per cent longer life than its predecessor and outperformed Michelin, the accepted durability master. 
The natural trade-off for longevity is wet grip, and we've not seen Goodyear taking its usual place among the leaders in these tests. It was fifth across the four tests but, like some others, stayed close to those at the top of the results. Although it was a tenth or two off the best it felt good behind the wheel, with a strong front but a rear that was kept in check.
Move across to the dry track and the latest EfficientGrip came into its own. It didn't quite have the sporting feel of the Continental, but it was next best, with good turn-in and the ability to take more throttle than rivals before pushing wide. It also lasted longer before losing grip compared with most competitors. 
The form carried across to braking, with a podium finish some 20cm or so off the best. It was also top at the pumps, with only the Bridgestone coming close. Add in it being the quietest, and it's our winner.
Blackcircles.com says...
"Successor to the popular EfficientGrip Performance, this new model is picking up from its predecessor. Rated 4.8/5 by customers, its fuel economy, grip and performance are praised."
Figures
Goodyear EfficientGrip Performance 2
 
Overall
100%
1st
Price
£72.08
 
Wet handling 
99.10%
=5th
Wet braking 
96.90%
4th
Straight aquaplaning
94.50%
9th
Curved aquaplaning
81.60%
9th
Dry handling
100%
1st
Dry braking 
99.30%
3
Rolling resistance 
100%
1st
Cabin noise 
100%
1st