Ferrari 458 Speciale A revealed in Paris
597bhp Ferrari 458 Speciale A (Speciale Spider) makes its Paris Motor Show debut
Ferrari has completed the 458 supercar range with a Spider version of the lightweight 458 Speciale called the Speciale A, on display at the Paris Motor Show 2014. The A stands for Aperta – Italian for 'open' – and the badge will only be worn by 499 cars, making the Speciale A as rare as the LaFerrari hybrid flagship.
Mechanically, the 458 Speciale A is identical to the 458 Speciale. The 4.5-litre V8 develops 597bhp, up from 562bhp in the 458 Spider, and drives the rear wheels via a seven-speed dual-clutch gearbox that's even faster through the ratios than a standard 458's transmission.
Weight-saving measures from the Speciale, like forged wheels and a new exhaust system, mean the Speciale A weighs in at 1,340kg when without fuel or fluids – a 1,445kg kerbweight. That's 50kg more than the hard-top 458 Speciale, due to the folding roof mechanism and stiffening measures – but 90kg lighter than a regular 458 Spider. Also carried over to the cabrio are aerodynamic features from the 458 Speciale, like the revised front apron with active flaps, and taller rear diffuser.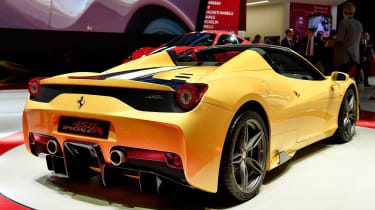 Ferrari claims the Speciale A will sprint from 0-62mph in 3.0 seconds – four-tenths quicker than a 458 Spider – and lap the Fiorano test circuit in Italy faster than the legendary Enzo, in one minute 23.5 seconds. The top speed is unquoted, but sure to be in excess of 200mph. Meanwhile, the roof takes 14 seconds to fold into a covered recess in front of the mid-mounted engine.
As these official pictures show, the 458 Speciale A is available with a unique design of racing livery with Pagani-style blue-tinted carbon fibre highlights. These finishes have not been seen on the hard-top 458; neither have the new Alcantara seats.
Official pricing for the Ferrari 458 Speciale A has yet to be announced, but it's guaranteed to be the most expensive 458 yet, likely to cost around £220,000. That's unlikely to put off canny investors, however, who'll view the Speciale A as a future classic. With Ferrari reportedly eyeing a switch to twin-turbo 3.8-litre V8 power for the 458's successor, this open-top Speciale could go down in history as the last-ever naturally aspirated V8-powered Ferrari road car.