Ferrari LaFerrari could hit 227mph
The LaFerrari will outpace the McLaren P1, according to its chief engineer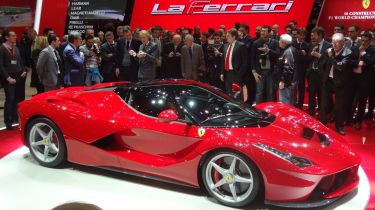 The sensational new Ferrari Enzo replacement – the 950bhp LaFerrari – could hit a top speed of 227mph, according to Ferrari's technical director Roberto Fedeli. That's 10mph more than it's arch-rival, the McLaren P1, also revealed in Geneva.
Although the official top speed is quoted as 219mph+, Fedeli confirmed that on paper – considering the power, weight, drag coefficient and rolling resistance of the car – that a top speed of 365km/h (227mph) is possible. As revealed previously, the 0-62mph time is 'less than three seconds', the 0-124mph time is 'less than seven seconds' and the 0-186mph time is 15 seconds – that's a full two seconds quicker than the McLaren P1.
But there's more to come, says Fedeli: "This is not the limit [of road car performance], we could go on, there is still more to learn." He continued, "The thermal engine produces around 800bhp now, but we could do better, we can reduce friction in the engine for example. This is the best that we can possibly do in 2013, but there's definitely more to come."
Unfortunately, while the hybrid powertrain (which combines a 789bhp version of the F12's 6.3-litre V12, with a 161bhp electric motor driving the rear axle) is an impressive piece of engineering, it's unlikely to trickle down to models like the 458 Italia's successor.
"This technology doesn't have the right maturity for other models yet," Fedeli admitted. "The cost is still way too high and by adding more weight we have to reduce it with lighter materials in other parts of the car, which adds to the cost further."
Fedeli also confirmed that Ferrari has reached its capacity in terms of new models. "I don't think it's possible for us to have more than five models in the range," he said. "We only have a limited number of engineers and resources and each new model need constant updating."