Fiat 500XL revealed
The first picture of the production-ready, seven-seat Fiat 500XL has appeared on a Spanish forum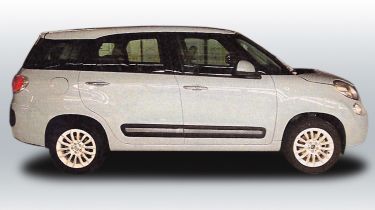 This is the first image of the production version of the Fiat 500XL. The image first appeared on a Spanish internet forum, and shows the new seven-seater version of the Fiat 500L in its full elongated glory.
As you can see from the pictures, the car looks very similar to the 500L from nose to C-pillar, but it does get a longer rear overhang and larger rear quarterlight window.
There's no official information about the latest member of the Fiat 500 family yet, but the 500XL is expected to measure around 200mm longer than the 500L's 4,147mm length.
The 500L and XL will mirror the five-seat Ford C-MAX and seven-seat Grand C-MAX model line-up. So the 500XL is expected to feature a similar interior to the 500L, but with the addition of two, third-row rear seats which can be folded up from the boot floor.
The engine line-up is expected to mirror the 500L's line-up, which includes the 105bhp 875cc TwinAir two-cylinder and 95bhp 1.4-litre four-cylinder petrol engines, and 85bhp 1.3-litre and 105bhp 1.6-litre Multijet diesels.
A Fiat spokesperson has confirmed that the 500XL is likely to debut at the Frankfurt Motor Show in September, with cars beginning to go on sale in Europe by the end of the year.
The Fiat 500XL becomes the fourth member of the expanding Fiat 500 family, joining the supermini, convertible and 500L. The range will continue to grow with the arrival of the 500X crossover next year, too.
A spokesperson did confirm to us that, although the 500XL name makes the most sense, that isn't guaranteed for the production version so as not to cause confusion with the 500X.