Shock new Focus shows its face
Radical new nose and efficient petrol engines for MkIII model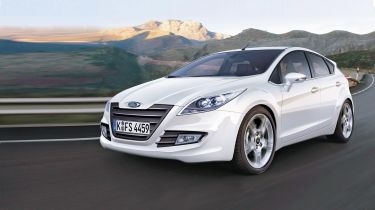 The heat is on in the compact hatch sector – Auto Express has learned that Ford is readying a dramatic new Focus to go head-to-head with Vauxhall's forthcoming Astra.
Boasting a wild new look – dominated by an outrageous grille – it will be a real head-turner, and is set to polarise opinion like never before.
Power comes from the very latest EcoBoost range of turbocharged engines, while the cabin will feature an all-new BMW iDrive-style control system. As with the Mondeo, the Focus will head further upmarket with greater emphasis on quality – as well as a higher price tag than the current generation.
And that's only the tip of the iceberg. According to our sister magazine in Germany, Auto Bild, the five-door model pictured here will be joined by a Focus-based coupé. This will have a bold three-door shape to rival the likes of the VW Scirocco and Renault's new Mégane Coupé. It will help differentiate the Focus range and appeal to younger buyers in the process.
However, it won't be the Focus or even a new coupé that spearheads Ford's attack on the compact family car class. While the third-generation model will be launched in late 2010, the blue oval will go into battle first in 2009, with a replacement for the C-MAX compact people carrier.
As we revealed in Issue 1,023, the new MPV will be available in both five and seven-seater form for the first time. Debuting a dramatic new face, it will preview the third-generation Focus and be based on Ford's new compact family platform. And as you can see from this illustration, the new face is certainly daring. Designers have consigned the current car's upper and lower air intakes to the history books in favour of a striking horseshoe-shaped radiator grille.
Other stand-out styling cues include the prominent bonnet, with lines that run from the base of the windscreen to form an overhanging focal point for the Ford badge. Then there are the huge headlights and further air intakes in the lower part of the front bumper, which house integrated foglights. Elsewhere, there's a more evolutionary styling approach, with influences from the latest Fiesta in the angular C-pillars and chunky stance.
Inside, the cabin will employ even higher quality materials than the current version, but the big news from our German sources is that Ford is developing a dashboard control system similar to BMW's iDrive and Mercedes' COMAND set-ups. This will be one of the car's highlights, as it will help to reduce clutter and improve the Focus' ergonomics at the same time.
There are important new developments under the bonnet, too. Just as the Vauxhall Astra will boast a fresh line-up of small capacity turbocharged engines, the third-generation Focus will feature Ford's new EcoBoost range (see panel right). Power for entry-level models will come from a 1.0-litre turbo four-cylinder unit with either 89bhp or 108bhp. The majority of sales will be taken by a new 1.6-litre turbo available in both 148bhp and 178bhp form. These new units will offer great performance and low CO2 emissions, too.
Our sources have revealed that Ford also has two new oil-burners up its sleeve: a 1.6-litre TDCi with 89bhp, 108bhp or 128bhp, and a 2.0-litre with 168bhp or 197bhp. All engines get manual gearboxes as standard, although Ford will expand the use of its PowerShift twin-clutch transmission.
The Focus will go on sale in late 2010, with a three-door coupé arriving in the same year, plus an estate and CC coupé-cabrio appearing in 2011.
Hi-tech engine is made in UK
EcoBoost is the future for engine technology at Ford. Combining turbocharging and direct injection, the new range promises amazing performance, 20 per cent better economy and 15 per cent lower emissions. The 1.6-litre EcoBoost will be built at the Bridgend plant in south Wales, and is set to go into production in 2010. A family of EcoBoost engines is due to follow, in various sizes, throughout the Ford range.