Jaguar F-Type Coupe - not your average video...
We could have made a normal video on the Jaguar F-Type Coupe - but would that really be fitting?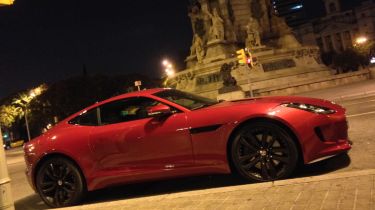 The Jaguar F-Type Coupe - there's a few things you need to know about it. Firstly, you can get it with two supercharged 3.0-litre V6 engines, one has 340bhp, and the one in the S model has 380bhp.
You can also get a supercharged 5.0-litre V8 with 550bhp in the F-Type Coupe R. That car will set you back £85,000. This S is £60,000 and the entry-level V6 is £51,000, which means that like-for-like, the Coupe is about £7,000 cheaper than the convertible.
Speaking of which, because it's got a hard roof, it's got a stiffer body, which means that overall it should handle better. In fact this is the most torsionally rigid Jaguar ever made.
We could have done a normal review where we told you what this car is like to drive on the road. Then we could have also told you what it's like to drive on the track. We could even have shown you how you can fit some golf clubs in its boot.
The thing is, though, there will be plenty of other reviews all over the Internet which will tell you all that - and they'll each come to the same conclusion.
The coupe is rather like the convertible, which we've already reviewed, only it's slightly sharper to drive. What they and I won't be able to explain in mere words is why the F-Type Coupe is like a work of art.