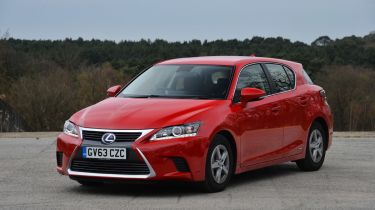 Our pick: CT 200h SPrice: £20,995
Toyota's hybrid technology gives the Lexus CT 200h the kind of emissions many superminis would kill to achieve. The entry-level S model does without luxuries, but emissions of 82g/km are impressive.
The brand claims to have made 94 improvements to the latest model, which combine to achieve sharper looks, greater comfort and more responsive handling.
It's designed to compete with the BMW 1 Series and Audi A3, while also providing Toyota customers looking to trade-up something to consider. With ultra low emissions, Lexus has company car buyers firmly in its sights, but it doesn't deliver the sporty driver experience and upmarket style we were hoping for. All cars get the same 1.8-litre petrol engine, hybrid-electric motor and CVT gearbox.