Lynk & Co aiming for UK launch in 2023
CEO Alain Visser tells Auto Express the brand is aiming to land in Britain next year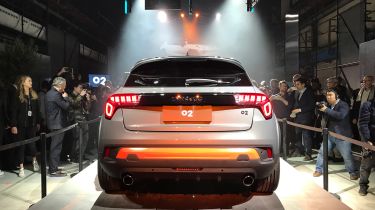 Lynk & Co looks set to launch in the UK in 2023 - that's according to brand CEO Alain Visser who told Auto Express about the Geely-owned company's plans for Britain.
"We've always said that after our seven first markets, we would go to the UK, and that is still the plan," said CEO Alain Visser in an exclusive interview. "In terms of the UK, it will mirror the approach that we've had in European markets so far". 
Contrasting to most other car companies, Lynk & Co says its not interested in car sales, but rather how many 'members' have access to its cars. In Europe, you can buy the brand's 01 SUV outright. But around 95 per cent of the brand's members - over 120,000 of them by the firm's latest count - subscribe to their car on a rolling one month contract for €550.
The service includes more than just the car and insurance. Lynk & Co members have access to live music events, film showings and DJ sets hosted at Lynk & Co clubs. The firm intends on opening a new London-based club following on from its eight European venues.
Prospective subscribers can reduce their monthly fee by sharing the car with other Lynk & Co members. Becoming a member is free, but vehicle owners are able to set their own prices for how much it will cost others to use it. 
Insurance, breakdown recovery and tax is all included in the monthly cost - all owners have to pay for is fuel. Vehicles will be serviced at Volvo dealerships and networks. 
While the company has already launched a number of vehicles in China, the only model that will be available in Europe is the Lynk & Co 01 - a plug-in hybrid crossover based on the same CMA architecture as the Volvo XC40. 
Its powertrain comprises a 1.5-litre three-cylinder engine, a lithium-ion battery and electric motor, combining to produce 257bhp. Up to 40 miles is possible on fully electric power, the brand claims.
Bosses have previously confirmed that Lynk & Co will have no more than three models in its European product portfolio. "I think we should at no point have more than three. I actually think that we can work with one model. I think the simpler the better," Visser told us last year. However, Visser has now told Auto Express the brand's 2023 UK launch will tie in with a "strong ambition to go to the UK with a fully electrified vehicle," paving the way for the brand's first EV.
There will be no physical Lynk & Co dealers, so buyers will order their vehicle online. Cars come with a set specification, and the only option buyers are given is the colour - black or blue - so vehicles will always be in stock ready for delivery.
Now read our first drive review of the Lynk & Co 01…