Mazda 6 Tourer - Best estate cars 2017
Lightweight construction means the 6 Tourer is pretty efficient for a large estate, and it's fun to drive, too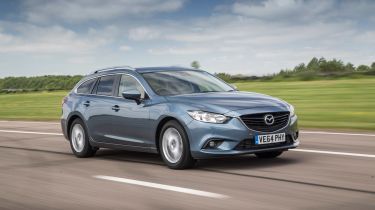 Genuine style is a rare feature in an estate, as it's no small task to squeeze the large proportions of a load-lugger into an attractive design. But the Mazda 6 Tourer has style in spades. The Japanese firm's designers have done an incredible job of stretching out the saloon's swooping lines, and have created one of the most handsome cars in class.
Even better: it drives as good as it looks. The engines have plenty of punch and are refined at speed. The ride is comfortable, the steering sharp and the body control is good, too.
The 6 Tourer can't quite match the class leader's for cabin and boot space, but it's still competitive. And it's pretty economical, too. The 148bhp 2.2-litre diesel will do 64.2mpg and 116g/km CO2, while that large engine capacity means it has plenty of torque for towing.